Marriage can truly change a woman's life. There are new priorities and new responsibilities to contend with, all while taking on a new role.
In the past marriage might have meant the end of a woman's path to higher education, but currently married women can continue with their education, and in some cases actually begin their education once they are married.
There are many things that can affect a woman's decision to seek a college education once she is married. These reasons include holding a full-time job, starting and taking care of a family, and managing time and funds.
Financial Considerations
Financial issues in particular can be a major factor in deciding whether or not to proceed with a formal education. While all these factors must be taken into consideration when making the decision to continue with higher education, funding in particular does not have to be an obstacle to earn a college degree.
Even if a married woman's financial situation seems like a deterrent towards earning a college degree, there are many scholarships and grants available for married women. With some research and dedication, married women can find the right scholarships and grants for them.
There are grants that are open to all students, as well as grants for adult learners or those returning to school. Additionally, married women can also research grants geared towards minorities or those offered based on special interests and circumstances.
If planned correctly, a married woman can apply for many different scholarships to fund her education as completely as possible. Scholarships and grants are offered by the individual educational institutions as well as by religious, non-profit, cultural and government organizations, among others.
Government Grants
Most government grants are based on income level so they are open to anyone, regardless of marital status, if the applicant meets certain income and other requirements. Some grants also take into consideration the student's academic average. Government grants are a good option for married women, whether they are stay-at-home spouses or employed. Usually, these scholarships need the previous year's tax return as supporting evidence to show income requirements have been met. Some of the government grants include:
The Pell Grant
The Pell Grant's most important qualifying criteria is financial need. If the family's income is less than $30,000 a year, then the student qualifies for a Pell Grant. The amount awarded, which has a current maximum of $5,400 a year, is then based on the student's financial need, after taking into consideration things such as educational costs and the student's family contribution to cover these costs. This award is open to both undergraduate and graduate students.
The Federal Supplemental Educational Opportunity Grant (FSEOG) Program
The Federal Supplemental Educational Opportunity Grant is another need-based program available to married women. This grant gives priority to undergraduate students who are already receiving Pell Grants and who are considered able to provide the lowest amount of family contribution.
In addition, this grant program is one of the programs designed to encourage women to continue with higher education. There are about 3,800 post-secondary institutions that participate in the program. The institutions apply for the grants directly and award them to the qualified students.
TEACH Grants
The U.S. Department of Education's Teacher Education Assistance for College and Higher Education Grant, also known as the TEACH Grant, is designed to provide financial assistance to students completing undergraduate or graduate coursework required to become a full-time, licensed teacher.
In exchange for the grant, the student must sign a service agreement that states that the student promises to "serve" or teach full-time in a high-needs field, working with low-income students and as a highly qualified teacher for four years within the eight years after the student has completed course work or has stopped attending school. If the student does not fulfill the agreement, the grant then becomes a Direct Unsubsidized Loan.
SMART Grants
The National Science and Mathematics Access to Retain Talent Grant (known as the National SMART Grant) is offered to third- and fourth-year students completing undergraduate work and attending school at least part-time.
Additionally, the student must also be eligible for the PELL Grant, have at least a 3.0 G.P.A. and be majoring in certain areas, such as computer sciences, life sciences, physical sciences, mathematics, engineering or technology. Because this is a needs- and merit-based scholarship, married women can apply for this grant as part of their package.
Additionally, women whose spouses are currently serving in one of the armed forces of the United States also have some additional resources to help pay for college costs.
Post-9/11 GI Bill Program
The Post-9/11 GI Bill Programallows active duty members to transfer their unused educational benefits to their spouse and children. There are some specific criteria that must be met to ensure transferability but this is a wonderful benefit that women married to military spouses can use to complete their college education.
Survivors & Dependents Assistance
The Survivors & Dependents Assistance Program is available for spouses and dependents of specific veterans. The program offers up to 45 months of educational benefits and can be used for degree and certificate programs.
To be eligible for the program, the beneficiary must be the spouse or child of a veteran who has died or has been permanently disabled in active duty through an incident connected to military service. The dependents of missing-in-action service members as well as those of members who are receiving therapy from the above incident and will be discharged as a result are also eligible. There are other criteria for eligibility and the benefits vary depending on the dependent.
The Army Emergency Relief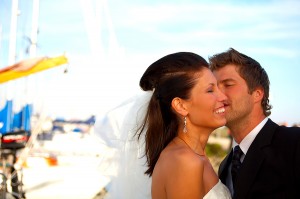 Army Emergency Relief also offers two scholarships for spouses of active members. The program includes two scholarships, the Overseas Spouse Education Assistance Program and the Stateside Spouse Education Assistance Program. Both programs provide funding for part-time and full-time study.
Spouses enrolling for part-time study must take at least 6 credit hours and can have access to the scholarship program for 8 years. Those that are enrolled in the full-time program must take at least 12 credit hours and have access to the scholarship for 4 years.
For the overseas program, the spouse must be residing overseas where the spouse is assigned. The maximum benefit the spouse can receive is $2,500 per year and cannot exceed half the total cost of tuition.
For the stateside program, the total benefit is $2,900 per year. The stateside program is available to spouses of active duty service members and retired veterans as well as to widows of members who died on duty or as retired veterans.
All coursework must be completed at an institution approved by the Department of Defense. Both scholarships are need-based.
Arnold Education Grant Program
The Air Force Aid Society offers the General Henry H. Arnold Education Grant Program, which has recently been expanded to allow spouses of service members to enjoy the benefit. A need-based scholarship, the Arnold Education Grant offers a $2,000 yearly grant to cover up to 50 percent of tuition costs at any school approved by the U.S. Department of Education. The program is limited to those students attending school full-time but it is open to spouses at any location stateside.
Grants for Minorities
As a group, women are considered a minority due to the many years of disenfranchisement they have suffered. They have been the victims of discrimination in many forms and have suffered emotionally, academically, financially and culturally as a result. Women have been continuously underserved in the educational field and there are many grants, usually from private institutions, designed to help women develop their capabilities and reach for equal footing in the world. Married women can benefit from these grants just as much as single women.
AAUW Grants and Fellowships
The American Association of University Women (AAUW) offers fellowships and grants to women candidates completing work for their doctoral and post-doctoral degrees.
EFWA Scholarships
The Educational Foundation for Women in Accounting also offers undergraduate, graduate and postgraduate scholarships to help women complete their studies and the field of accounting successfully.
This foundation offers many different scholarships, including the Women in Transition scholarship, open to women who are the primary source of support in their household; Women in Need, specifically for women in their sophomore year of college; the Michelle L. McDonald Memorial scholarship, for women who are returning to college after working for many years or raising a family; and the Moss Adams Foundation scholarship, geared towards women who are returning to college as juniors or seniors or completing the fifth year of a general studies or graduate program. There are also scholarships available specifically to women studying in Seattle and to women seeking postgraduate studies.
Jeannette Rankin Women's Scholarship Fund
This scholarship fund is geared for women 35 and over who are U.S. citizens or residents and are enrolled in or accepted at a regionally accredited school. Additionally, the candidates must be working towards a degree in technical or vocational education, an associate's degree or their first bachelor's degree.
This is an income-based grant open to low-income applicants fitting within the Department of Labor's Lower Living Standard. While the foundation seeks to support women who are overcoming life challenges and need to acquire the skills that can guarantee a secure job as well as adequate support for their families, married women who meet the criteria and have clear goals and plans to overcome the challenges facing their families can also apply.
The scholarship offered by the Rankin Foundation may be used for tuition as well as books, transportation and other living expenses including child care.
Talbots Charitable Foundation's Scholarship Program
The Talbots Charitable Foundation's Scholarship Program offers scholarships to women who are completing their college education later in life. The scholarship is currently open to women who reside in the United States or Canada, who have earned their high school diploma or GED before September 2001, and who are enrolled or will be enrolling at an accredited institution for part-time study. Additionally, recipients of this award must have at least two semesters or 24 credit hours remaining before graduation.
PEO International Continuing Education Program
The Philanthropic Education Organization Program for Continuing Education offers grants to women who want to continue with higher education. The women must be mothers who wish to return to school after taking time off from their education to raise their children but who cannot afford to pay the costs of their education.
Currently, grants are for $3,000 and can be used towards the cost of tuition, books and other expenses related to school. The qualifications include enrollment in an institution in the United States or Canada, being a Canadian or American citizen, having spent at least 24 months away from school, sponsorship from a P.E.O. chapter, and being within 24 months from graduation. Students completing doctoral, law or medical programs are not eligible for this program.
San Diego Foundation
The San Diego Foundation has a long list of scholarships, all with a basic criteria but geared towards different groups. One of the scholarships they offer through their common scholarship application is for returning students, which can be a good choice for married women continuing their education. The foundation also manages different scholarships for other organizations, providing all the details and processing the different application packets.
Individual Educational Institutions
Married women can also look at the educational institutions themselves for funding geared specifically for women. Some colleges and universities also offer special grant opportunities for married students. Women's colleges can also be a source of grants for married women attending the particular school. The grants can be need-based, merit-based or both. These centers can be particularly beneficial for women, who continue to be underserved in many other institutions.
Wellesley College
Wellesley College in Massachusetts offers specific programs for non-traditional students, such as the Davis Program, to complete an undergraduate program on a special schedule, which can be full- or part-time and takes into consideration other responsibilities such as work and family. Part of the school's philosophy for all incoming students is to provide an affordable education and with this in mind, they offer many grants and scholarships trying to minimize or eliminate the student's need for funding through loans.
Agnes Scott College
Agnes Scott College is another women's college offering specific programs for nontraditional students.
Through the Irene K. Woodruff Program, the college offers women who are at least 24 years old, married or with dependents, a specially designed program to complete a liberal arts, undergraduate degree. Students in this program are given the flexibility to enroll full or part-time.
The school offers all incoming first-year students who meet the required criteria a merit-based scholarship of $63,000 over four years, including a $3,000 grant that can be used for study-abroad, internship or mentored research after sophomore year.
In addition, the school offers many other scholarships to help cover the cost of tuition, including the Goizueta Foundation Scholarship which completely covers tuition, room and board, with preference towards Hispanic/Latina women who show academic excellence and leadership qualities as well as financial need.
Indiana University East
Indiana University East offers the David H. Runyon Scholarship for students who are enrolled full-time, with preference for married students. The program is specific to residents of Richmond, Indiana and the application process includes demonstrating how education can improve their life.
Dixie State College
Dixie State College of Utah is another school offering scholarships with preference for married women or health science majors. The Carolyn Reinbold Scholarship is offered to students who are completing their bachelor's degree. To qualify, the student must hold a 3.0 GPA with at least 62 earned credits or have earned an associate's degree.
Middle Tennessee State University
Middle Tennessee State University offers the Paul W. Martin Sr. Scholarship, with preference for married students, military veterans and children of the Tennessee Valley Authority employees. Recipients of the scholarship must also be part of the Honors College.
The scholarship is only available to full-time students who are taking at least a three-credit-hour Honors class or completing their thesis. Part of the application includes submitting the student's academic record for review.
University of Wisconsin-Madison
The University of Wisconsin-Madison also offers a grant that can help married women who are returning to school after a prolonged break from their education. Grants are available for students through the school's Adult Career and Special Services Office.
To be eligible, the student must be enrolled for less than half-time. The grants are awarded each semester and cover the cost of tuition for one class in an undergraduate course of study or for up to three credit hours for graduate study.
Married women who need to create their own schedule of study due to other responsibilities and who do not plan to attend at least half-time can benefit from this grant, which can be awarded to one student up to two times.
Religious Organizations
Religious organizations are a source of spiritual support for many people. These organizations also usually offer many community services to help their members improve their quality of life. Some of the services offered by religious institutions can include scholarships and grants to help the institution's members continue with their higher education. In addition, many of these organizations do not limit their services to members only, which is important to keep in mind to avoid overlooking a possible funding source.
Presbyterian Church (U.S.A.)
The General Assembly Mission Council of the Presbyterian Church of the United States manages different scholarships, some of which can help married women who are members of the Presbyterian Church and are seeking to continue their studies.
The National Presbyterian College Scholarship is a scholarship geared for first-time freshmen who are attending certain colleges associated with the Presbyterian Church. They can also apply for the Student Opportunity Scholarship, which is geared for undergraduate students who have completed at least one year of collegiate studies. This particular grant also gives preference to students of certain ethnic racial backgrounds.
United Methodist Scholarship Program
The United Methodist Scholarship Program, managed by the General Board of Higher Education and Ministry, administers a group of scholarships available to active, full members who have been a part of the church for at least one full year, who are enrolled at an accredited institution in the United States, who have maintained a 2.5 or higher GPA and who are registered as full-time students at their institution.
Catholic United Financial
Catholic United Financial also offers scholarships to students seeking higher education. The grant is for $500 for students who enroll in Catholic colleges and $300 for students who enroll in non-Catholic institutions. The scholarship is open to all members of Catholic United who wish to pursue a degree.
Jewish Foundation for the Education of Women
The Jewish Foundation for the Education of Women offers many different grants to women who demonstrate financial need and a desire to continue their higher education. Most of the grants are specific to particular institutions and majors within those institutions.
All the institutions are located in New York and many of the majors are related to the Health professions. This is a nonsectarian, private foundation and all women who meet the eligibility requirements can apply for the grants, regardless of religious beliefs.
Other Local Organizations
Additionally, married women can look to their local organizations and institutions for scholarships limited to their location. There are many local colleges and other institutions that make smaller grants and scholarships available to the residents of the area.
This is just a small sample of the scholarships available to married women to fund a college education. Taking the time to research all the opportunities to find the ones that fit will take away part, if not all, of the worry over financial issues related to higher education.
It is important to remember that all need-based scholarships and even some merit-based scholarships require the applicant to submit the FAFSA, or Free Application for Federal Student Aid, as part of the application process. This should be one of the first steps the married student completes. The process of researching, applying for and earning scholarships is a long one. It is best to start early with the entire process so that the path towards completing a college degree can be easy and rewarding.