Divorce is often a devastating experience both emotionally and financially. And while time heals most emotional wounds left in the aftermath of divorce, both laypeople and financial experts alike believe that women who have gone through a divorce may never fully recover from the financial devastation, especially mothers who are serving as the custodial parent when children are involved.
There is no question about it: the cost of divorce for a woman is extremely high. While dealing with the emotional turmoil associated with the process, legal fees can reach astronomical heights before it's all said and done. And once the process is complete, a divorced woman must then learn to live without her spouse's income. More often than not, this can be a troubling and extremely difficult transition.
Education and the Workforce
In addition to relying on her spouse's income to help support the family, women may also have been relying on their husband's health and retirement benefits. In order to compensate for both the loss of money and benefits, divorced women, especially those who have been stay-at-home moms, may need to consider entering or re-entering the workforce. Finding a career with strong earning potential and good benefits can be hard to come by without proper training or a college degree.
But furthering one's education, of course, requires money, creating a dilemma for divorced women who are already financially strapped. Many women who have gone through a divorce do not have the money to pay for higher education out of pocket, nor do they want to live under the crushing debt of student loans, especially on top of any other debt they may already be dealing with. The expenses and additional financial strain that are required in order to begin a new career may not seem worth it.
Scholarship Opportunities For Divorced Women
There are, however, a number of grants and scholarships available to divorced women that can ease the financial burden of financial education, and the savings can be significant. It is certainly worthwhile to do a little research and explore all options available to assist with the cost of higher education.
Women play an integral role in today's workforce, and government, private institutions, and non-governmental organization realize the importance of educational opportunities for women so that they may receive the training and education needed to advance their careers. Scholarships have been put into place for women to pursue both basic and more advanced levels of education. Certain scholarships and grants even allow women to obtain more than one degree, and are available to women who meet a number of criteria, including divorce.
When preparing to begin the process of seeking grants and scholarships to pursue higher education, divorced women should also consider looking into institutions under a Displaced Homemaker status. Generally speaking, a Displaced Homemaker is an individual of at least 30 years of age who has been dependent on another family member's income, but who no longer has access to that income. A Displaced Homemaker status is certainly applicable to divorced women. There are a number of funding opportunities available to individuals who meet this criterion.
Consider the following opportunities:
Scholarships by Institution
Sometimes, scholarships are sponsored directly through colleges and universities themselves. Some schools even offer non-tuition help and can help provide free computers or free daycare for children to help single mothers while they attend their classes. Divorced women can contact the financial aid office or a career counselor at the institution they wish to attend to inquire about scholarships for Displaced Homemakers or for other scholarships for which they may be eligible.
Federal Pell Grants and FSEOG
The Federal Pell Grant Program is offered by the federal government for individuals, including divorcees and single parents, to go back to college in order to pursue a degree. The amount of money that may be awarded under the Pell Grant depends on the financial needs of the applicant, the cost of tuition, status as a full- or part-time student, and how long the student plans to attend school within the academic year.
The grants themselves are awarded directly through participating colleges and universities to low-income students who have either not yet received a bachelor's degree or to those who are enrolled in post-baccalaureate teacher certification programs.
Like other grants, Pell Grants do not need to be repaid, and the money can be used toward the cost of tuition, fees, and books. Pell Grants will not, however, pay for the entire cost of education.
In addition to the Pell Grant is the Federal Supplemental Educational Opportunity Grant (FSEOG) Program. Pell Grant recipients may be awarded up to an additional $4,000 through FSEOG, but it is only available to families with the lowest incomes, so not every divorced woman can qualify for this grant. Additionally, not every school participates in the FSEOG program. Interested applicants should contact the financial aid office at the schools they are interested in to find out if they are FSEOG participants.
Women wishing to obtain a college degree can apply for the Pell Grant and FSEOG by completing the FAFSA (Free Application to Federal Student Aid) application at fafsa.gov as well as grants.gov.
Grants for Teachers in Training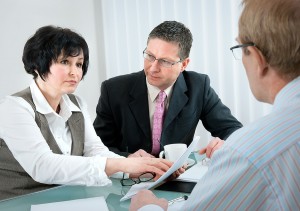 Divorced women hoping to go back to school to earn teaching certificates can benefit greatly from the federal government's Teacher Education Assistance for College and Higher Education(TEACH) Grant. Through TEACH, up to $4,000 of a student's yearly tuition may be subsidized.
In order to qualify for a TEACH Grant, applicants must successfully complete an approved list of Bachelor's degree courses including Math and Sciences, and they must sign contracts stating they will teach at a school for low-income students.
In addition to the federal TEACH grant, there are a number of grants awarded by individual state governments for teachers in training. With so much funding available, it is quite possible for a divorced woman to attend school for free, paid entirely by grants, if she wishes to become a teacher. Interested applicants should speak with a financial aid representative at the school of their chose and check the TEACH website for more information on what is needed in order to qualify and how to apply.
Women's Independence Scholarship Program
The Women's Independence Scholarship Program (better known as WISP) was established by the Sunshine Lady Foundation to help survivors of domestic violence. WISP's mission is to help survivors pay for higher education so that they may not only get started on a new career path, but also establish independence, self-sufficiency, and a sense of self-worth.
Potential students looking to attend an accredited institution either full- or part-time may qualify for a WISP scholarship. WISP offers financial support for students in programs at state-supported community colleges, state-supported colleges and universities, private colleges and universities, for-profit institutions, and technical and vocational schools.
Applications must be submitted by mail, but more information on WISP can be found at WISPinc.org.
Soroptimist Women's Opportunity Awards
Women who are the primary source of financial support for their families and have overcome challenges and obstacles in order to pursue higher education may be eligible for a Soroptomist Women's Opportunity Award. These awards are ideal for divorced women who are now single mothers since they have been put in the position to be the primary breadwinner in their homes.
In order to qualify, women must already be accepted to or enrolled in a vocational skills training program or a program to pursue their first undergraduate degree. Applicants must also be able to demonstrate financial need.
The amount of money awarded in one of these scholarships will vary but can reach up to $10,000. Women's Opportunity Awards can help divorced women return to school in order to further their education so that they can expand their opportunities for employment.
Philanthropic Educational Organization Grants and Scholarships
There are a number of PEO grants and scholarships, two of which may be especially appropriate for divorced women. Through the Program for Continuing Education, need-based grants are awarded in amounts of up to $2,000 to women who are pursuing higher education for the purpose of supporting themselves or their families.
Divorced women who already hold a degree but would like to continue their education even further may wish to consider applying for a Scholar Award. These awards are merit-based and can be quite substantial, and they are intended for women pursuing post-graduate study or their doctorates at an accredited institution. More information on PEO grants can be found at peointernational.org.
Jeannette Rankin Foundation Scholarships
For divorced women over 35, the Jeannette Rankin Foundation has scholarships in place especially for this demographic to help them achieve their dreams of higher education. These scholarships are for women with low income who are currently enrolled in or have been accepted to an accredited institution. Women must be pursuing an associate's degree or their first bachelor's degree in vocational or technical education in order to qualify.
American Association of University Women Career Development Grants
Divorced women who already hold a bachelor's degree but would like to continue their education even further may also be eligible for a grant from the American Association of University Women. These career development grants are awarded to women with bachelor's degrees who would like to pursue a second bachelor's degree, a master's degree, or career training in either a technical or professional field. The amount awarded under this grant can range anywhere from $2,000 to $12,000.
Talbot's Women's Scholarship Fund
Each year, Talbot's issues sixty $1,000 scholarships and six $10,000 scholarships. These awards are presented to women who are pursuing an undergraduate degree from an accredited two- or four-year institution. Women must have received their high school diploma or GED within the last 10 years, and only women who are seeking a bachelor's degree are eligible for the $10,000 scholarships. More information on the Talbot's Women's Scholarship fund can be found here.
The Path to Independence
Divorce is a time of high stress and can leave women feeling lost and even hopeless. But the termination of a marriage does not have to mean financial doom or giving up dreams of higher education and a better career.
Divorced women can qualify for a number of grants and scholarships as mentioned above, and it is worth noting that a divorcee doesn't only need to meet that particular criterion in order to qualify for grants or scholarships. There are a number of opportunities for grants and scholarships for women that are also well worth considering so that they can get back on their feet and realize their dreams to further their education in order to better themselves and set off on a new career path that will allow them to provide financial support for their families.
Independence – both emotional and financial – is possible after divorce. With so many grant and scholarship opportunities, women should take advantage of funding for which they may be eligible. Though the application process may seem daunting, the educational opportunities offered by these funds are priceless.