Nursing is one of the careers that has not only experienced extreme growth in terms of demand, but also has reached the point of crisis in some locations due to shortages of qualified individuals to fill the needs of the communities. Due to these extremes, there is a great deal of motivation on the part of government entities, especially to provide financial assistance in order to encourage more people to seek careers as nurses. As a result, there are a variety of general and nursing-specific scholarships and grants available to women who desire to earn nursing degrees.
In pursuing your goal of becoming a nurse, it's important to evaluate the paths available to achieving this goal, and it's important to recognize the different types of nursing degrees available.
The LPN, licensed practical nurse, is often trained in an actual medical setting, and performs limited duties such as patient care and taking of vitals. The time required is less than that associated with the RN, registered nurse, degree.
It's possible to obtain an RN degree through an associate's program or through a bachelor's program. The two-year or four-year degrees culminate with the need for the RN candidate to pass the NCLEX-RN exam, a national test that leads to licensure.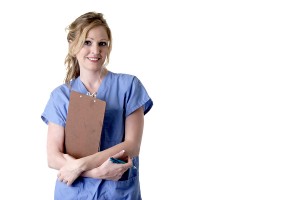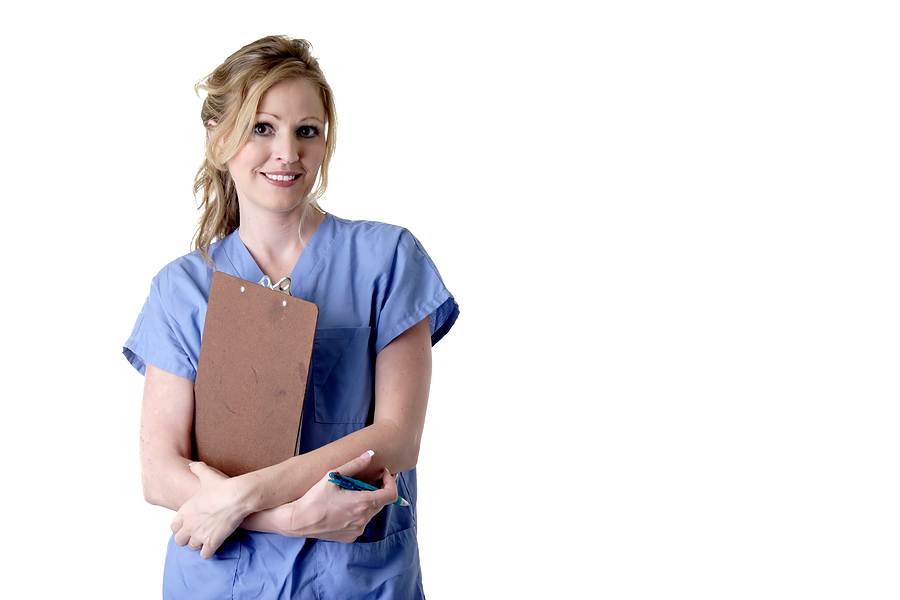 Your need for financial aid will depend on the length of study time, the pricing of the institution at which you will study, and your financial need. While some forms of aid are need-based, others are merit-based. Additionally, financial aid for women pursuing a nursing degree may be awarded based on community service and other relevant factors.
Federal Financial Aid for Women in Nursing
General financial aid is an option for both men and women who demonstrate sufficient need. The FAFSA, Free Application for Federal Student Aid, should be filled out as soon as possible at the beginning of the calendar year preceding the expected date of entry into a program of study.
Personal information will be filled out, including personal identification, family composition, financial status, and tax return information for both student and parents. If the applicant is an adult that is not claimed as a dependent, parent information isn't needed, of course.
It's possible to complete these forms without exact tax information in order to have them done early, but it will be necessary to update the tax return information upon completion of your tax return. You can complete the forms on paper or electronically, and it's possible to find assistance from a college or university if you need help.
You will receive confirmation of receipt of your FAFSA along with an estimate of your potential aid. This isn't the exact award that you will receive, but rather a maximum amount that may be awarded. The actual award will be determined by your specific institution, and it is important that your FAFSA indicate the institutions you are considering attending.
Further detail may be required by these colleges or universities, and it's important to comply with these additional requests in a timely manner. For further information, visit the FAFSA home page.
Work Study
Your FAFSA will ask about your interest in work study. This is an additional opportunity to earn money toward your degree through federally subsidized employment. This can help many students to stretch their funds, including those pursuing a nursing degree.
Government Nursing Scholarships
Due to the high demand for nursing professionals and the need to attract more students to the study and pursuit of nursing degrees, the government established a scholarship program that assists students with great financial need in financing their studies. The award comes with a condition of providing two years of nursing service in a high-need location.
Preference is given to those students with the greatest need and with zero parental contribution expected. In addition to financial and personal information being provided in the application, there is an essay portion in which the candidate can describe her interest in and commitment to the nursing profession.
This scholarship provides up to four years of tuition and other reasonable expense funding, including books, medical equipment, and supplies needed for clinical training. It also provides a monthly stipend, variable each year.
Over the life of this program, the number of awards has increased each year, with nearly 500 awards given for the 2011-2012 academic year. For more information, visit the Nursing Scholarship Program home page.
Military Nursing Scholarships for Female Nursing Students
Both Air Force and Navy ROTC programs offer potential scholarship assistance to women who will pursue the field of nursing. Qualifications must be met, and awards can be quite ample, with initial grants plus monthly stipends allowing for the student to be able to afford her nursing studies. The awards are generally accompanied by a required time of active duty following graduation.
Institution-Specific Scholarships
Each college and university has its own scholarship department, and it's wise for a woman interested in studying nursing to apply through that department. Details and applications are often available online, and should be explored early in the spring for the best opportunity at receiving aid. There are opportunities for need-based scholarships, merit-based scholarships, and service-based scholarships. The availability varies by institution.
Additionally, many institutions of higher education have department-specific scholarships available and encourage students to pursue those options through their department of concentration. You should explore the availability of nursing scholarships available through your school early in the spring preceding your entry into the school or program, and you need to complete applications according to deadlines in order to be considered.
Community-Based Scholarships
If you are looking for funding for your nursing studies, then every source of aid matters. Many communities prove to be rich in options for additional scholarships available to students pursuing a variety of career paths, and the female nursing student should investigate these avenues for augmenting her finances for school.
Utility companies are among those entities that provide scholarship opportunities, as are financial institutions. Check for information on company websites or as at the actual offices. Service organizations such as Rotary Clubs and Kiwanis are also noted for sponsoring scholarships.
Professional organizations, clubs and unions often have opportunities for those pursuing their fields to apply for scholarship money. Check with nursing unions and healthcare providers' associations for specific information. Be sure to investigate at local, state, and national levels for opportunities.
State-Specific Scholarships
Many state entities sponsor scholarships that apply either to general in-state studies at higher institutions or to nursing-specific pursuits that will be in-state. Much of the need for nurses demands that states and organizations invest in the training of those who will remain to serve their specific states. In other cases, the purpose of in-state scholarship programs is to interest quality students in studying in-state.
Awards may be of a single year's duration or they may be renewable. This, along with amounts, varies from one specific scholarship to the next. Qualifications and preference vary according to the sponsoring organization's priorities. Some value student need and grades, while others depend on a proven record of leadership. Many require essays to allow students to convey their interest and passion for the nursing profession. While some applications may be submitted electronically, others must be submitted by mail. It's imperative that students follow directions carefully and fill out forms neatly.
Arizona Nursing Scholarships
The American Legion Auxiliary of Arizona provides both a nursing-specific scholarship and a health care professions scholarship to Arizona residents. Awards vary in amount, with $400 being the minimum health care professions amount and $500 being the set amount of nursing-specific awards.
Priority is given to students with financial need who have an immediate family member that is a veteran. The number of these single-year awards varies, and the funds must be used at an Arizona school with an accredited two- or four-year nursing program.
The Arizona Nurses Foundation provides 18 awards annually. Amounts range from $500 to $1,000, and are renewable for up to four years of study. Applications are accepted in both fall and spring for the following semesters.
California Nursing Scholarships
The California division of the American Legion Auxiliary provides a yearly scholarship of $2,000 to a California resident. The award recipient must either be a veteran or a member of a family with a veteran. The single-year award is provided to a student beginning or continuing in studies in nursing. As organization funds permit, additional awards may be granted.
The Emergency Nurses Association of California offers a new $5,000 scholarship with one-year duration. The award is granted to a paramedic or EMP who is working toward earning a nursing degree. This scholarship is given in honor of Brian Stow, a paramedic from San Francisco. Stow was brutally attacked at a Los Angeles Dodgers game for his loyalty to the opposing team, the Giants.
Colorado Nursing Scholarships
As in the case of many states, the American Legion Auxiliary sponsors one-year awards ranging from $2,500 to $5,000 that are non-renewable. The number of possible awards varies each year, depending on the funds available. These scholarships are available to veterans or their family members, and in most cases the applicant must be a high school senior planning to pursue a nursing career.
In addition to the American Legion-sponsored nursing scholarship, the Daughters of the American Revolution offers a nursing centered scholarship to a high school senior pursuing nursing studies. The single-year award is $1,000.
Connecticut Nursing Scholarships
There are several nursing-centric scholarship awards available from Western Connecticut State University. While some are available to high school seniors embarking on nursing studies, others are available to current students at the university that are moving into their final two years of study.
Delaware Nursing Scholarships
The state of Delaware sponsors a nursing incentive program of recruitment based on student merit. Students are provided with funding that will be forgiven after a fulfilled commitment to work at a state clinic or hospital. The work commitment is equal to the number of years of funding received, and awards vary. If the work commitment isn't completed, the award is treated as a loan to be repaid.
Florida Nursing Scholarships
The Florida Nurses Foundation provides a varied number of scholarships each year. Duration may be a year or a semester, and the number of scholarships varies each year. In order to be eligible, a student must live in Florida while attending a Florida institution of higher learning, with one year of residency in the state required. Further, the applicant must have completed at least one semester in a qualified nursing program.
Georgia Nursing Scholarships
Georgia's American Legion Auxiliary awards scholarships to veterans and their descendants who are residents and planning for study and work in the nursing field. The awards vary each year.
Hawaii Nursing Scholarships
The Hawaii Student Nurses' Association sponsors in-state scholarships each year. Awarded to residents who will be studying nursing, the award amounts vary. Likewise, the numbers of awards vary.
Illinois Nursing Scholarships
Sponsored by the Center for Rural Health, this nursing education award is available to those residents pursuing either associates' or bachelors' degrees in nursing. The awards are also available to students seeking a hospital-based course resulting in a nursing diploma. The awards are additionally available to graduates. There are numerous awards and amounts that are renewable.
Northern Illinois University also sponsors several nursing scholarships for in-state applicants. Some of these are limited to undergraduates, others are available only to graduates, and some are available to both. Each scholarship varies in requirements, amount and duration.
Indiana Nursing Scholarships
Indiana's American Legion Auxiliary sponsors one of the nursing scholarships that is truly limited to female applicants. The primary requirements are that applicants be descendants of American Legion members, residents of the state, and planning to study nursing in Indiana. The two-year award varies according to funds available.
The state also sponsors nursing scholarships that can be renewed, with a total award duration of four years possible. These are promissory awards that hinge on an agreement to commit to two years of nursing work in-state. The maximum yearly award is $5,000, and applications must be submitted each year for renewal.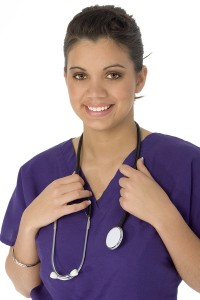 Indiana State University sponsors a number of nursing-specific scholarships. Some depend on a student having completed a portion of her program of study while others are available to students entering the university.
Iowa Nursing Scholarships
Iowa's American Legion awards various nursing scholarships each year. The one-year awards are for veterans or their descendants that are residents of the state. Award amounts vary.
Kansas Nursing Scholarships
The state's Nurses Foundation offers a variety of scholarships for both graduates and undergraduates in the area of nursing. The aim is furtherance of nursing education for Kansas students. Amounts and numbers of awards varies.
Kentucky Nursing Scholarships
The state offers $3,000 yearly awards to students enrolled in approved programs at both graduate and undergraduate levels. The awards must be repaid if a student doesn't complete the study program and follow it up with required nursing employment in the state.
Maryland Nursing Scholarships
As in the case of Indiana, the Maryland American Legion nursing scholarship awards are specifically available to women, descendants of veterans, that will pursue studies in nursing. Each year, a single award of $1,000 is made that can be renewed for an additional period of three years.
Missouri Nursing Scholarships
There are several nursing scholarships administered by the Missouri League of Nursing, with applications available from the deans of approved institutions. The numbers and amounts of the scholarships vary, with each having a slightly different focus.
The Erby Young award is limited to LPNs enrolling in RN programs of study. There are also memorial scholarships that are available to either LPN or RN students that have completed their freshman year in associate or diploma programs. Additional MLN scholarships are available to all areas of nursing study. Financial need and academic record are important factors for consideration.
New Jersey Nursing Scholarships
New Jersey's American Legion Auxiliary offers scholarships in nursing studies for children or grandchildren of veterans of the state. These are available for freshman year use in two- or four-year programs.
North Carolina Nursing Scholarships
A commitment-based scholarship program, the Great 100 program entails a two-year work commitment in-state after completion of a nursing program for the recipients. There are four scholarships each year of $1,000 in value, and candidates may be enrolled in either undergraduate or post-graduate studies.
Ohio Nursing Scholarships
The Big 33 Scholarship is available to high school seniors from either Ohio or Pennsylvania planning studies in nursing. Awards range from $1,000 to $1,600.
Oregon Nursing Scholarships
Oregon's American Legion provides a yearly nursing scholarship to a dependent or widow of a state veteran for pursuit of a nursing degree. Each $1,500 scholarship is renewable. Applicants must be accepted for entry into a qualified program.
An interesting award program in Oregon is a response to the dire shortage of nursing professionals in some areas of the state. The Oregon Nursing Services Program provides varied amounts to RNs who have completed their studies or are in the final year and who will commit to serving in the areas of critical need. State residency isn't a condition of receiving this award.
Pennsylvania Nursing Scholarships
State scholarships are available to relatives of veterans and active-duty members of the military, specifically to children and spouses. Pennsylvania residence is required along with enrollment in an approved nursing program. This award is determined by lottery. The one-year award is $1,000.
Additional Pennsylvania nursing awards include the Big 33 award available to both Pennsylvania and Ohio students graduating high school and embarking on a nursing education. Nightingale Awards are also offered in Pennsylvania to attract and retain quality nursing students who will commit to in-state work. Five annual scholarships are also available from the Nursing Foundation of Pennsylvania, given to undergraduate nursing students.
Rhode Island Nursing Scholarships
The Rhode Island Foundation administrates several nursing scholarships. Amounts vary, as do requirements. In some cases, as with the Albert E. and Florence Newton scholarship, the scholarship is intended for RNs working toward a BSN. In other cases, as with the Willard and Marjorie Scheibe scholarship, undergraduates and graduates are eligible.
Texas Nursing Scholarships
As in many states, Texas students can explore the possibility of American Legion nursing scholarships, with a yearly $500 award to a descendant of a veteran. Awards have single-year duration. The state also has a loan forgiveness program in place for nursing students that work in the community for each year of loan forgiveness provided. These funds are a combination of state and community resources.
Utah Nursing Scholarships
Utah has a Nurses Foundation Grant program available for state residents. Applicants must join the association after graduating and must commit to working in Utah at an educational institution or health facility for one to two years. The award has a single year's duration but can be renewed.
Vermont Nursing Scholarships
A loan repayment program is in place in Vermont, allowing recipients to obtain awards in exchange for commitments to work in the state. Awards vary annually.
Virginia Nursing Scholarships
DAR, Daughters of the American Revolution, sponsors a scholarship competition annually. Two awards in the amounts of $2,500 and $1,500 are provided, each with a year's duration. High school seniors residing in-state are eligible for these awards to be used at Virginia schools.
Washington Nursing Scholarships
The Nurses Foundation sponsors four scholarships per year, each $1,000 in value with one-year duration. Applicants must have completed a minimum of 12 credits in nursing to be eligible.
Wisconsin Nursing Scholarships
The state's League of Nursing provides assistance at two levels. State nursing scholarships are available to those graduating high school and intending to study nursing. The student must be accepted to a qualified program in order to be eligible.
The $500 scholarship is based on need and academic performance. For students already in the midst of their studies, there are additional League of Nursing scholarships available. These amounts range from $500 to $1,000.
Private Companies and Foundations with Nursing Scholarships
Johnson & Johnson
Johnson & Johnson is a company particularly dedicated to supporting the nursing profession through education and finance. Discover Nursing is a public awareness program in the United States that focuses on attracting and retaining nursing professionals. The website includes current news about the nursing profession, an overview of nursing careers and educational programs, and an extensive database of nursing scholarships and financial aid options for those needing scholarship or grant assistance in the field.
Johnson & Johnson partners with organizations like the Foundation of the National Student Nurses' Association for raise funds for scholarships. This foundation was established in 1969, and emphasizes educational and charitable activities. The organization provides a variety of nursing scholarships funded by events that Johnson & Johnson sponsors.
The search for scholarships at the Discover Nursing site is extensive, with the ability to refine according to state, GPA, ethnicity, and student status. Specific search terms can be used to refine your search further.
In all, the site lists hundreds of nursing scholarship opportunities for students. A separate search page is available to peruse extensive funding options, including grants and tuition reimbursement programs. Again, this search can be refined to make it easier to tailor results to your specific interests or status.
Tylenol
It is also possible to find healthcare-related companies that sponsor scholarship programs focused on nursing or health care. Tylenol offers grants of varied amounts, ranging from $5,000 to $10,000, to future healthcare professionals. The award amounts are different each year, as is the number of awards.
American Cancer Society
The American Cancer Society is another example of a non-profit organization that sponsors scholarships for nursing. Post-graduate students pursuing masters' degrees are able to apply for a $10,000-per-year award with up to two years of funding possible. Doctoral candidates can receive annual awards of $15,000 with up to four years of funding possible. In each case, the award is intended for students specializing in cancer nursing.
March of Dimes
The March of Dimes is another non-profit organization that sponsors scholarships in nursing. Awards of up to $5,000 are available to those pursuing post-graduate studies in nursing. Membership in nursing associations related to childbirth or neonatal care are required.
National Nursing Scholarships
As is evident, there are a host of state-sponsored nursing scholarships and financial aid incentives. The recurring American Legion and nursing foundation awards suggest that if your specific state isn't mentioned, it would be beneficial to explore the websites or contact the leaders of such entities to inquire about similar programs. American Legion scholarships of various types are often available for descendants of members.
Nursing Organizations Providing Scholarships
Nursing organizations are well aware of critical areas of need and may be best poised to direct future nurses toward financial aid opportunities in their states. At the national level, there are many more nursing scholarship opportunities. Some of these are aimed at a general audience while others are particularly intended for women. Some are aimed at a general nursing program, and others are specifically intended for specialty fields of study.
In many cases, nursing non-profit organizations sponsor scholarships in order to attract quality nurses to the profession and in order to assist colleagues in the pursuit of further nursing education. Additional nursing scholarships come from health care related non-profit organizations. Some of these awards are as follows:
Academy of Medical-Surgical Nurses Foundation: $500 awards are provided to nursing students at a variety of stages in their educations, with the stipulation that applicants have been members of the foundation for at least one year.
American Academy of Nurse Practitioners Foundation: Awards of $1,000 and $1,500 are available to members or student members who are enrolled in nurse practitioner programs at various levels.
American Association of Critical Care Nurses: $1,500 awards are available to members of the AACN who are already licensed as RNs and are in the process of pursuing a bachelor's or graduate degree in nursing.
American Association of Neuroscience Nurses: $1,500 awards are available for nursing studies at both undergraduate and post-graduate levels.
American Holistic Nurses' Association: Varied scholarship amounts are awarded according to the availability of funding, with recipients being members of AHNA who are enrolled in a nursing program that emphasizes holistic nursing.
American Nephrology Nurses' Association: $2,000 to $2,500 scholarships are awarded for members of the ANNA who are enrolled in BSN or graduate programs in nursing.
American Society of PeriAnesthesia Nurses: Scholarships of $1,000 are available to active members who are licensed as perianesthesia RNs. At least two years' experience in the field and two years' membership in the society are required.
Association of periOperative Registered Nurses: Tuition, fees and textbooks are funded for members at varied levels of study and for nonmembers pursuing RN licensure.
Emergency Nurses Association Foundation: Awards are available to those with at least one year of membership for either undergraduate or graduate studies. Additional awards are available to non-members in undergraduate nursing studies.
ExceptionalNurse.com: $250 to $500 scholarships are awarded to full-time nursing students committed to working with individuals with disabilities.
Foundation Education Scholarship: Continuing education awards of $1,000 for members of the Infusion Nursing Society.
Health Occupations Students of America: one year awards of $1,000 to $7,000 to members of the organization, with preference toward those studying nursing.
Miriam Fay Furlong Grant: Members of the professional fraternity of nurses, Alpha Tau Delta, are eligible for the $1,000 awards.
National Association of Pediatric Nurse Practitioners Foundation: Up to $40,000 is available to a post-graduate student pursuing a specialty as a pediatric nurse practitioner. Candidates must have at least one year of experience in pediatric nursing.
National Health Service Corps: Post-graduate students in nursing accepted into an accredited program in nurse-midwifery or family nurse practitioner studies are considered for scholarships, with a minimum two-year commitment to serve in an area lacking in health care professionals required.
Oncology Nursing Society Foundation: Post-graduate awards of $3,000 are available to licensed RNs pursuing careers in oncology nursing.
Employer-Provided Financial Aid
Many employers are interested in the development of the professionals working for them. Whether you work for a major health care company or for a local hospital, be sure to explore any financial incentives offered for continuing nursing education. In many instances, employers will provide part or all of the costs for studies that will directly impact their opportunity to better serve their clients. Explore your company website for additional information or make an appointment with your supervisor or with the human resources department.
The search for scholarship funding for nursing studies can seem overwhelming at the outset. It is important to evaluate a variety of avenues, and it is especially important to begin your search early.
Deadlines for scholarship applications are usually early in the semester preceding your anticipated entry into a program. Forms should be completed as neatly as possible. Attention to application details is imperative. Sending the wrong information or addressing your application to the wrong office or individual can mean an automatic rejection.
It's helpful to keep in mind that though some awards seem too small to make much difference in your educational costs, every little bit matters. When you begin your studies, explore opportunities for further scholarship assistance and financial aid through your actual college or university. Some of these may be specifically tied to nursing, while others may be linked to your participation in campus organizations. Be aware of awards programs and competitions available on campus, and take advantage of these unique opportunities to stretch your educational dollars.