Overview
Girls in high school have plenty of opportunities for finding scholarships and grants for college. Businesses and large corporations now seek to support women entering fields such as engineering, math, and computer technology. Other programs give girls the chance to hone their writing skills, make videos, or submit art and poetry in order to compete for scholarships. Some colleges offer scholarships that are only geared toward young women who have gained admission to that particular college.
To find these scholarships, young women in high school should start the application process early. A young woman in high school may want to begin looking at scholarships during the freshman or sophomore year of high school.
Many scholarships are listed on scholarship search engines, while other scholarships will require more focused research on the websites of particular colleges. Some scholarships, such as the Scholastic Art Portfolio scholarship, require an immense amount of time and energy. The earlier you know about this type of scholarship, the earlier you can start preparing the necessary work for it.
Making a list with all of the potential scholarships one is interested in is a good start. On this list, an applicant should place the deadline next to each scholarship. This will motivate an applicant to keep materials organized early on and submit the application as soon as possible. Knowing the deadlines also helps a high school student to balance her time between schoolwork and applying for scholarships.
I. Corporate Scholarships
A few corporations are renowned for the support they offer young women. Obtaining a scholarship from one of the following corporations can mean that a young woman graduates tuition-free from college. While corporate scholarships are rather competitive to obtain, they do provide substantial financial assistance to those who ultimately receive such scholarships. Below is a list of the top corporate scholarships for women in high school.
The Kellogg Company
The Kellogg Company offers incredible financial opportunities for minorities and women in high school. Every year, this corporation provides over $200,000 in support for minorities and women to attend college. Kellogg Scholarships are available through particular colleges, so young women will have to check out the website to find out more about the application process.
General Electric
General Electric scholarships typically provide up to $5,000 per winning applicant. The money supports women entering fields such as engineering or business. To apply, one will have to submit three letters of reference, a transcript, and a personal statement describing one's career goals.
Best Buy Scholarship
The Best Buy Scholarship program offers $1,000 to over 1,200 winning applicants. The winners are selected on the basis of grades, volunteer participation, and extracurricular activity involvement.
Dell Scholarship
To apply for a Dell Scholarship, young women must be in their last year of high school. The minimum GPA requirement is only a 2.4, but that does not mean this scholarship isn't competitive. The scholarship puts forth its criteria in selecting winners based on such phrases as "individual determination to succeed" and "ability to communicate hardships you face and ability to overcome them."
Winning this scholarship is much more than just winning a paycheck. In addition to winning $20,000, students become part of a Dell Scholar community. These scholars also receive the latest technology equipment from Dell so that they can succeed in college. They receive textbook credits, PCs, laptops, printers, ink, and other supplies.
Apple Scholarship
Apple offers scholarships to high school seniors as well. Apple provides $2,000, as well as a MacBook Pro and iPod Nano. To apply, visit www.apple.com for more information.
II. Community College Scholarships
Community college scholarships are often easier to obtain than corporate scholarships or competitive merit-based scholarships. A community college scholarship can provide hope to a young woman who may find herself in difficult circumstances in high school.
Community college scholarships exist for young women who may be pregnant, have a low income, or face other hardships in life. This is not to say one must be facing these tragic circumstances to qualify for a community college scholarship. Some of these scholarships do benefit young women who are at the top of their class in high school. Attending a community college for a couple years on a scholarship and then transferring to a larger university is an attractive option for young women who are supporting their own education.
Dual-Enrollment Programs
Dual enrollment is typically the most popular way to earn college credits while in high school. The reason this program is so beneficial for young women is because it helps them save money in college.
A young woman in high school can earn 20 to 40 college credits during high school that ultimately transfer to a University. When these credits successfully transfer, she will be able to graduate a year or two early from college. With the average cost of tuition being around $20,000 a year, this means a young woman could potentially save $40,000 in tuition fees by graduating early.
To learn more about a dual-enrollment program, speak with the guidance counselor at your high school. You should have information about the ability to obtain credits from a local community college. Some high schools provide the dual-enrollment program free of charge to young women in high school. Inquire about any scholarships that are available for the dual-enrollment program.
The way that the dual-enrollment program works is a student can take up to two extra college courses in a regular semester. The typical high school student will take these courses in the evening after her high school classes. Some high schools will allow these courses to be taken in lieu of high school courses. This can save a student time in her high school schedule.
DePaul's Programs
DePaul University is one of the leading universities to build a partnership with local community colleges. DePaul is one school that supports the giving of community college scholarships to young, gifted women who may then transfer and complete their degrees at DePaul.
Learning More About Dual Enrollment Programs
The Davidson Institute for Talent Development has put together a comprehensive website for young women in high school who are gifted. This website contains other links to websites explaining the dual-enrollment process and applicable scholarships. This website is quite organized, as young women can research dual-enrollment programs on a national, state, or organizational basis. The site also posts links for information on early admission to major Universities in the area.
Summer School Scholarships
Another form of dual enrollment is the summer school program. Summer school programs allow high school students to get a taste of college life during their high school years. Through these programs, students take up to two college courses over the course of eight weeks during the summer. Students can attend all different types of summer schools.
Harvard Summer School Program
Young women can even apply for the Harvard Summer School Program, if they so choose. The Harvard Summer School Program is one of eight programs offered at Ivy League colleges throughout the United States. This program features courses such as Political Philosophy and Introduction to Western Art History. Classes are usually taught by Harvard faculty, although some faculty come from other colleges around the world such as Oxford University.
If a young woman in high school has her heart set on attending a summer school program, she may apply for financial aid directly from that program. It is a little-known secret that summer school programs are very generous in their financial aid offers. Colleges like Harvard want to see the best and brightest young women attend their programs, so they will try to work with your financial situation.
Joyce Ivy Foundation
In addition to financial aid from summer school programs at schools like Brown or Yale, young women can also obtain financial assistance through the Joyce Ivy Foundation. The Joyce Ivy Foundation provides summer school scholarships to Ivy League colleges to young women in the Midwest.
Every year, the Joyce Ivy Foundation expands the number of scholarships it offers to young women. They provide full and partial scholarships to cover the cost of tuition expenses, living expenses, and travel expenses for the summer. In addition, young women join a network of scholars who will serve as a support system in the future. The program also provides mentors for these young women as they embark on a summer of educational freedom.
Applicants considering this program should apply early, as they will also have to apply separately to a summer school program. The list of programs that have been approved by the Joyce Ivy Foundation can be found at its website. They include schools such as Brown, Duke, Harvard, MIT, Yale, Johns Hopkins, and the University of Michigan-Ann Arbor.
III. Merit-Based Scholarships
National Merit Program
The National Merit Program awards over 10,500 scholarships every year. It is one of the oldest scholarship programs in the United States, begun in 1955.
To participate in the National Merit Program, applicants must be a United States citizen, be a full-time high school student, and obtain a qualifying score on the PSAT test. The PSAT stands for "Preliminary SAT." If a student scores in a certain percentile, he or she will be invited to apply for a spot as a National Merit scholar.
To become a finalist, one will then have to submit other information. A committee will consider an applicant's high school endorsement, self-reflection essay, transcript, involvement in extracurricular activities, and most recent score on the SAT exam.
Out of over 15,000 Finalists, only about 8,000 will ultimately receive scholarships in this program. It is a highly competitive program for very accomplished and gifted students. Winning one of these scholarships is typically a very positive accomplishment to list on one's applications for colleges. Highly selective colleges in the Ivy League system will typically look for this sort of accomplishment in the application of high school students.
Girl Scout National Competition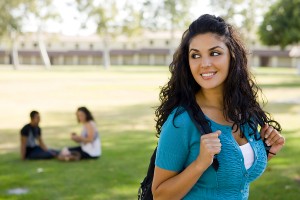 The Girl Scouts organization provides tremendous support for young women in high school. It administers a few different scholarship programs every year. Some programs, like the Gloria Barron Prize for Young Heroes, focus more on the community service aspect of an applicant's application. This program awards scholarships to high school students who have demonstrated exceptional public service to their local and state communities.
The GSCNC Gold Award Scholarships are given to young women who have earned their Girl Scout Gold Award. Only 17 of these scholarships are given every year. To qualify for one of these scholarships, young women will interview with local businesswomen, submit high school transcripts, and submit a personal reflection essay. Semifinalists who are not selected for this scholarship will still receive a bond worth $200.
Be sure to check out the Girl Scout website for other scholarships available to particular communities. The site also lists other more specific scholarships, such as the Corinne Jeannine Schillings Foundation Scholarship. This scholarship was created to commemorate the life of Corinne Schillings. At only 26 years old, Corinne lost her life in a water taxi accident. The scholarship is given to Girl Scouts who are pursuing a major or minor in a foreign language.
IV. Adoption Scholarships
Some young women in high school find themselves in uneasy predicaments. To deal with issues like pregnancy, different supportive scholarship organizations have developed over the years. The following organizations issue scholarships to young mothers or young women who choose to go through the adoption process. These organizations usually provide much more than a simple sum of money to these young women. They can also provide a supportive network of individuals who will help the young mother care for her children, while she seeks to accomplish her educational goals.
Birth Mother Scholarship Program
This organization has a board committee that allocates scholarships to young mothers who choose adoption. Every year, the number of scholarships given differs. The amounts awarded also depend on how many young women apply and the tuition of their respective colleges. The scholarships given by this organization are renewable for eight semesters. One must maintain a 2.5 GPA to qualify for the scholarship every year.
Teen Parent Connection
This program offers scholarships exclusively for young mothers who wish to attend vocational school or college. There is one caveat with this program, and it is that young women must live in DuPage County, Illinois. A young woman may apply for this scholarship when she is still pregnant. If this is the case, then the organization awards the scholarship upon the birth of the child.
APS Education Foundation
This scholarship program also offers financial assistance to young mothers. However, it differs from other scholarship programs, because it does not disqualify women who are not pregnant from applying. The scholarship will be provided after the child has been born. The parent must be enrolled in classes in order to receive the scholarship.
V. College Scholarships
Young women can be strategic about the way they apply to colleges in high school. By applying to a college with an all-female student body, a young woman may bolster her chances of receiving a full scholarship.
In addition, entering non-traditional fields for women will typically result in a young woman being gifted with a scholarship from a particular college. Fields such as technology, math, and science are striving to increase the number of women who work within them. As a result, many alumni develop strong scholarship programs at colleges geared toward young women in high school.
Applying for a particular engineering program or science program may ensure that a young woman receives a full scholarship to college. For the young woman who is seeking to achieve a full ride to college, applying to specific programs at colleges is the key. This will offer the best chance of success for a young woman.
Wellesley College
Because Wellesley College is an all-female student body, the support for this college is tremendous in regards to scholarships for young women in high school. This school provides scholarships to women and men who have been accepted into Wellesley. It provides merit-based and need-based scholarships. These scholarships can range in amount from $5,000 to $9,000. The trustees of this organization are responsible for choosing the winning applicants.
Financial Aid Offices
Visit the particular financial aid offices of schools like Smith College or Wellesley College to learn more about how they can help you attend college at a decreased cost. Typically, when you apply for admission to an all-female school, you will automatically be considered for financial assistance.
If you have been denied financial assistance, however, do not let that stop you. Meeting with financial aid representatives in person can actually go a long way in changing your current financial aid package. Do not let an initial offer dissuade you from attending a particular school. Every school will work with you to find a way that you can ultimately attend.
VII. Being Organized for Scholarship Success
To ensure that you have the best chances of success in applying for scholarships in high school, you should be as organized as possible. The more organized you are, the more scholarships you will apply to. Many young women never even attempt applying to corporate scholarships because they think the competition is too stiff and that they have no chance. The truth is that thousands of these scholarships are not even given out since too few students apply for them.
1. Make a List of Scholarships
First, make a list of all of the scholarships that interest you. Do not pay attention to how big your list becomes, the requirements, or the deadlines for the particular scholarships. Simply allow yourself to create this list. You can use the scholarships listed in this resource for your list, as well as the scholarships listed through search engines provided in this material.
2. Narrow Down the List
After you make your list, now is the time when you can narrow it down. Look at your schedule and decide how much time you can allocate to applying for scholarships. Honestly, this is one of the most important things you can ever do in your lifetime. You will never again be able to save $20,000 to $40,000 on tuition with free money.
Because of this, you should put aside at least 10 hours a week for working on scholarships. That may sound like a lot of time, but it can be divided up over the week. You can decide to do a few hours throughout the week and then use a chunk of time on a Saturday or Sunday for scholarship applications. You can simply decide to work two hours a day on scholarships. Whatever way works best for your schedule, do that.
Even if applying for scholarships means you take fewer hours at your part-time job, you should still devote the time to scholarship applications. The money you can earn from scholarships will outweigh the small earnings you could have made from a part-time job.
3. Gather "Easy Information"
Now that the list of scholarships is completed, start to gather all of the "easy" information for scholarships with upcoming deadlines. "Easy information" are things like high school transcripts, proof of citizenship, and signatures from your professors. You can easily gather these things by sending a simple email to your high school guidance counselor or making copies at the library.
Once you have this information, your next step will be to organize it into a file system. If you can, use a filing cabinet with a folder marked for each scholarship application. You can also use a travel portfolio if that is less expensive for you. Just make sure that each scholarship has its own designated spot somewhere. This will allow you to refer back to each file instantly in the event that a scholarship committee requests an additional copy of information. Materials can also be easily lost in the mail, so always make copies of everything you send out to a scholarship in an application.
4. Ask for Letters of Recommendation
Gathering the "easy information" is the best way to get started on a scholarship. This way you will feel as though you already have accomplished a part of the application, so you will not be dissuaded from giving up on the application.
The second step is to obtain any recommendation letters you will need from teachers, principals, employers, family, or spiritual leaders. Carefully read the requirements of your scholarship. Some scholarship applications will prefer letters that are only from your teachers, as opposed to employers or family. Never send a family recommendation if a scholarship clearly specifies that it requires recommendation letters from a teacher.
Some young women fret about asking particular teachers for letters of recommendation. The truth is that most teachers are more than willing to provide letters of recommendation, even if you may have received a mediocre grade in the class. A teacher simply wants to know that you tried your best in a particular class.
Of course, smart students will choose to obtain letters of recommendation from teachers who may know of their achievements and support such achievements. For example, perhaps you are the leading point guard on your high school's basketball team. Maybe your English teacher is also the coach of your basketball team. If you have succeeded in both the class and on the basketball team, then asking this teacher for a letter of recommendation is a very wise idea.
You should always try to ask for letters of recommendation from your teachers in person, as opposed to email or over the phone. This will allow your teacher to associate your name with your scholarship application. At some high schools, a teacher may teach hundreds of students in a given day. Separate yourself from the crowd by having the courage to ask for a letter of recommendation in person. Teachers have written hundreds of letters of recommendation for students before, so they are not at all surprised when students ask for scholarship recommendation letters. In fact, some teachers are flattered by it.
Be sure to follow up with your teachers and let them know about the status of your scholarship, whether you won or lost. Also, be sure to ask for letters of recommendation at least a month ahead of the due date. This gives your teacher the necessary time to write a thoughtful letter in support of your application.
5. Write the Essays
The essays are typically the most difficult part of the scholarship application. For this part, you should plan on setting aside about three hours to complete an essay that is about 1,000 words. Try to write the essay from your heart. Scholarship committees want to hear about how much you desire this scholarship, the obstacles you have overcome in your life, and how this scholarship will help you achieve your dreams.
Scholarship essays can actually be great fun, because they force you to sit down and consider all of your career goals. You have the chance to really think about your education and how it will help you accomplish your life goals.
After you have written an essay draft, be sure to "let it breathe" over the next few days. Take a break from writing the essay. Come back to it with a fresh pair of eyes. After you have let it sit for a while, read through it again and correct any grammatical or phrasing errors in it.
You may also want to have your parents read it and spot any errors they see. You can even ask an English teacher in your high school to proofread it. He or she will be more than happy to help you. Catching simple errors, such as grammar or spelling errors, is absolutely essential as you apply for scholarships. Some committees will throw out an essay simply due to one or two spelling errors. Avoid this disqualification by being as prepared as possible.
VII. Stay on Track
Set a goal for yourself every week for how many scholarships you want to complete. Perhaps in the beginning stages, you set a goal of applying to one scholarship a week. This takes off the pressure to complete every single one on your list. As you become more efficient in applying for scholarships, then you may want to increase this number to two or three scholarships a week.
Also, set a monthly goal for yourself so that you remember to set a weekly goal for scholarship applications. This may sound like being a bit over-obsessive; however, you may forget to even set a weekly goal for scholarship applications in the beginning weeks. So many high school students are busy with school, work, and sports, so avoid getting too caught up in all of this by remembering to set one goal for yourself that relates to scholarships every week.
VIII. Follow Up on Scholarships
After you have submitted your scholarship applications, you should be notified within a few weeks of whether you won. Look on the website for scholarships to find out when the notification letters are sent out. Some scholarship organizations may not notify you right away.
If you have not heard from a scholarship organization, then be proactive and follow up on it. Try to contact a director of the organization by using the phone number listed on its website or application. Otherwise, you can also try emailing the director of a scholarship organization.
The reason you should always follow up is because it may not always mean you lost. Just because you have not heard from a scholarship committee does not mean they disqualified you. Instead, it may mean that the directors simply forgot to choose this year's winner. You will be more likely to win the scholarship if you have been the one to remind the committee. Some scholarships are run by parents or business people who forget that they have applications sitting in a mail box waiting for approval. Not every scholarship is run by a large group of people, so just be sure to remember this as you apply.
Also, as a last bit of advice, do not let the scholarship process get you down. Just because you do not win every scholarship you apply to does not mean you should stop submitting applications. Simply apply to as many as you can. You never know if the one scholarship you win is a full ride to your dream college. Envision success for yourself during the process, and you will win a scholarship that benefits your education.