As the start of college quickly approaches, it is down to crunch time on scholarship applications. For lesbian students, a number of college scholarships are available. Many colleges offer a LGBT Resource Center that can be turned to for scholarships. For students who are looking for extra money for college, numerous opportunities exist outside of college resource centers. Although this list is by no means exhaustive, it is a great start for lesbian students in need of college tuition dollars.
SOLGA Kenneth W. Payne Student Prize Competition
Every year, the American Anthropological Association's Society of Lesbian and Gay Anthropologists (SOLGA) holds a scholarly essay contest. Each paper must be written on a gay or lesbian topic. The winners receive a prize of $400 and a letter of commendation from SOLGA. Judged for their relevance, the essays are also picked out for their contribution towards the understanding of sexuality around the world.
LEAGUE Foundation
In October of 1998, Matthew Shepard was the victim of a hate crime in Wyoming. In his memory, the LEAGUE foundation has created the Matthew Shepard Scholarship specifically for gay and lesbian students. Students with at least a 3.0 GPA can turn in an application by mid-April for a chance at winning the award.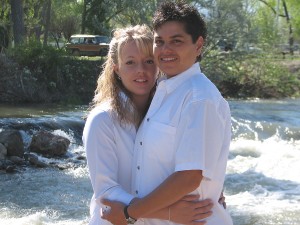 Another incident led to the creation of the foundation's second scholarship. New Jersey Police Lieutenant Laurel Hester served her country until the specter of death loomed in her life. As she counted down her final days, Laurel had to fight for her right to leave her pension and benefits to her domestic partner, Stacie Andree. In memory of her struggle for equality the LEAGUE Foundation started offering the Laurel Hester Memorial Scholarship in 2006.
Live Out Loud Annual Scholarship
Five hardworking LGBTQ students every year receive this leadership scholarship. Honoring courage and achievement, the $5,000 scholarship issued by Live Out Loud is available to students living in New York, Connecticut or New Jersey. Students have to create six essays, fill out an application and turn in two letters of recommendation. At the end of the process, two students are brought in to the Live Out Loud office for an in-person interview.
The mission of the organization is to develop role models in the LGBTQ community, connect leaders to LGBTQ youth and share their stories with the new generation of students. They hold assemblies and after-school programs to help students learn how to make a difference in the community.
NWSA Graduate Scholarships in Lesbian Studies
This scholarship is specifically made for graduate students who are working on a dissertation in lesbian research. Although membership is not required, a preference is given for members of the National Women's Studies Association (NWSA). Applications are due on February 15 and the winners of the $500 award will be announced after all applications are reviewed. To receive more information, contact Loretta Younger at the National Women's Studies Association.
The Point Foundation
Partially need-based, the scholarship given by the Point Foundation also serves to recognize the nation's top students who are marginalized because of their sexual identity. Any undergraduate, graduate, or post-graduate student can apply. Students who receive the scholarship can receive any amount ranging between $5,000 and $28,000. The scholar can renew their scholarship in future years provided they maintain a 3.5 GPA.
This foundation serves to help the underprivileged in America and create a support system for LGBTQ youth. Begun in 2001, the Point Foundation has distributed over $ 3 million to the nation's lesbian, gay, bisexual and transgender scholars. It covers the cost of tuition, room and board, living expenses and textbooks.
Each student receives an average of $13,600 a year towards the cost of their education as well as additional mentoring and leadership training. During their college years, Point Scholars are required to complete an LGBT community service project to give back to the community.
Queer Foundation Scholarships
For the avid writer, a scholarship through the Queer Foundation can be the perfect solution to educational money problems. Students must complete an English essay to promote queer study before continuing on to study in queer theory.
This nationwide contest offers three students the opportunity to win $1,000 towards their education. The collected essays are then transformed into a queer-related curriculum to educate high school students. Successful applicants are picked by a panel of judges.
After the selection process is complete, the winning essayists will be interviewed and have their references checked. Scholarships are applicable to any United States college or university.
Models of Excellence Scholarship
For gay or straight California high school seniors, this scholarship contest runs through mid-April. Seniors must show a commitment to civil rights and the LGBT community. Annual awards of $500-$1,000 are made for the winning applicants.
PFLAG National GLBT Scholarship Program
Established by the parents, families and friends of lesbians and gays (PFLAG), this award was started in 2003 to help GLBT youth receive an education. Boasting eleven award programs throughout the country, it is run with money from the estate of Palmer B. Carson. Each scholarship offered encompasses $2,500 or $1,000. Some of PFLAG's $1,000 scholarships are:
PFLAG Scholarship for students with at least one GLBT parent or guardian
The Jeff Iorilla and Roel Hinojosa Scholarship for liberal arts
13 Palmer B. Carson-PFLAG Regional Scholarships
5 scholarships for science, business or engineering
For students seeking more scholarship offerings, PFLAG also has awards totaling $2,500:
PFLAG National Donor Scholarship
Palmer B. Carson-PFLAG "Sakia Gunn" Scholarship for GLBT Community Involvement
Palmer B. Carson-PFLAG "Jeanne Manford" Scholarship for GLBT Leadership
Palmer B. Carson PFLAG "Esera Tuaolo" Scholarship for Academic Achievement
Dow Scholarship for Allies
Palmer B. Carson-PFLAG Scholarship for Nevada/Reno residents
Palmer B. Carson-PFLAG Scholarship for GLBT Advocacy
Lesbians For Change (New Mexico)
Lesbians in need of educational assistance in New Mexico should apply for this scholarship. Eligible students should be politically involved among the lesbian community. Students who apply by June will able to learn their result by August. Awards of $500 are made every year to two exceptional students.
The Pride Foundation in the Pacific Northwest
All it takes is one application with the Pride Foundation and fifty different scholarships are immediately applied for. Residents in the states of Washington, Oregon, Alaska and Idaho are all eligible for this scholarship competition.
Each scholarship places a particular focus on civil rights and LGBT activism. Ranging from $500 to $10,000, this one application opens up the doors of opportunity for area lesbian students. Some of the awards focus on a specific degree attainment such as law or vocational programs. These scholarships may also require students to have a strong background in leadership or sports programs. Students must apply by mid-January to be considered for this exceptional scholarship program.
The Pride Foundation especially encourages students of color and from multiple geographic areas to apply. Any student who has been isolated or ridiculed for their sexual orientation can gain financial and community support through the Pride Foundation.
As children grow up stigmatized for their identity, they often fail to live up to their ability. This scholarship program seeks to grant every student the access to an education that they need to live up to their true potential. Started in 1993, the Pride Foundation has awarded over $2.5 million dollars to more than 1,000 scholars. With their partnership with the GSBA, they seek to improve these numbers in the coming years.
The Greater Seattle Business Association in Washington State
Undergraduate students in Washington State can apply with the GSBA by mid-January to enter the scholarship competition. Successful applicants receive awards of up to $5,000 each. The Greater Seattle Business Association focuses on students who have promoted diversity in their LGBT community and demonstrate the requisite financial need.
Scholars who receive the award often show leadership potential, extracurricular activities and exceptional academic performance. Drawing from a diverse group of scholars, the Greater Seattle Business Administration seeks to improve the world by providing one education opportunity at a time.
The scholarship program was started in 1990 by a couple of teachers who realized the discrimination LGBT students faced because of their sexual orientation. These students had the capabilities to perform well in college, but lacked the family, friends and financial support.
The GSBA Scholarship has collaborated with the Pride Foundation to better serve their student population. Currently, GSBA has granted over 249 awards equaling more than $806,000. Thanks to the effort of community members it has developed over time to provide assistance to LGBT scholars in need.
First Friday Breakfast Club in Iowa
Although the First Friday Breakfast Club is an organization created for gay and bisexual men, it has a yearly scholarship that is offered to all members of the LGBTQ community and allies. Each year the First Friday Breakfast Club raises enough money to provide at least one $3,000 award. The organization seeks to increase awareness and tolerance and reduce homophobia.
With a March 31 deadline, this scholarship is one of the earlier ones to apply to. Eligibility criteria state that students should be Iowa residents and have plans to pursue some kind of post-secondary education. Students are not judged based on religion, creed, gender, race, sexual orientation, marital or employment status.
CU-LEAD Scholarship
Some of the scholarships given to lesbian students are operated through university programs. The CU-LEAD program is based out of the University of Colorado at Boulder. It stands for leadership, excellence, achievement and diversity. Open to all accepted freshmen, it features a yearly grant of $1,500.
The alliance is a group of different academic learning communities that work together to promote excellence. All of the money for the CU-LEAD scholarship program is raised from the Ofelia Miramontes Scholarship Fund. Aimed at creating a diverse student body, the scholarship fund tries to seek out students of different races and sexual orientations.
Jac Bruno Scholarship
Another scholarship run by a regional school, the Jac Bruno Scholarship is intended for female lesbian students at Parkland College. Students must become members of the Queer Alliance or be a representation of the local lesbian community. After completing 24 hours of coursework with a GPA of 3.2 or higher, students are eligible to receive this $100 award. Special preference is given for students majoring in women's studies, arts or education.
In high school, lesbians and other LGBT students may have to face increased levels of discrimination and isolation. Each scholarship fund on this list is dedicated towards improving the educational prospects of these bright, young students.
Students who are kicked out of their families or ignored by their community often have no financial resources to pursue college with. The funds and awards that are provided by non-profit organizations and foundations serve a greater good.
In this nation, all people were created equal. The dedicated, hard work performed by the country's scholarship foundations has gone a long way towards making each member of society truly equal. There is still more work to be done, but lesbians can now take advantage of these scholarship options. By discovering their full potential, they become beacons of light in the community and can help usher in a new generation committed to equality.