Accounting is one of the hottest career fields today. In fact, the Bureau of Labor Statistics, a branch of the US Department of Labor, projects job growth in accounting to be about 22 percent from 2008 to 2018, which is much faster than the average job growth for all career fields.
As of 2008, the median annual wage of accountants and auditors was $59,430, and the top 10 percent earned more than $102,380, according to the Bureau of Labor Statistics.
Business Insider reports that, of the top ten most popular college majors today, accounting comes in third. Additionally, more women major in accounting than do men, 52 percent versus 48 percent.
However, the cost of becoming an accountant can be quite high. Most employers expect their accountants to have earned at least a bachelor's degree and many students will spend another one or two years in college to become eligible to sit for the Certified Public Accountant Exam. Thus, depending on the level of education attained and the living arrangements available to a student, earning a degree could cost anywhere from $13,000 to $30,000 per year.
For this reason, it has become very important for students to find ways to help defray some of the expenses. Women interested in a career in accounting have the opportunity to apply for a variety of scholarships that help them do exactly that.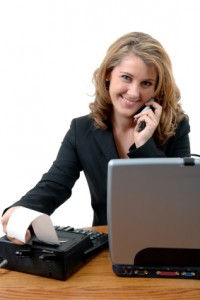 The Educational Foundation for Women in Accounting (EFWA)
EFWA grants scholarships to women who are earning degrees in accounting at the undergraduate, graduate, and postgraduate levels. At the undergraduate level, there are two primarily scholarships available. Students may apply for one or the other.
Women in Transition: This scholarship is awarded to a woman who is the primary source of support for her family and is enrolling as an incoming freshman to earn a bachelor's degree in accounting. It is awarded for up to $16,000 over four years as determined by EFWA's board of trustees.
Women in Need: Similar to the Women in Transition scholarship, this one is awarded to a woman who is completing her sophomore year of academic pursuit, and it is awarded in the amount of $2,000 per year for two years.
In addition to these directly-granted scholarships, the foundation also sponsors four additional scholarships, meaning that students may apply for the funds from a single application available at www.efwa.org.
The other undergraduate scholarships available by applying through EFWA are from:
The Institute of Management Accountants: $2,000 for women working toward a bachelor's degree in accounting;
The Michele L. McDonald Memorial: A yearly award of $1,000 with preference given to a woman returning to college from the work force or after raising children; and
The Moss Adams Foundation: A yearly amount of $1,000 is awarded to minority women studying accounting at the junior or senior levels.
Applicants should carefully study the criteria for each scholarship to determine whether they are eligible.
Accounting & Financial Women's Alliance (AFWA)
AFWA's scholarships fall into two categories: those that are open to the public and those that are offered to members only.
The public scholarships at the undergraduate level help defray the cost of students attending the 3rd, 4th, or 5th year of university when pursuing an accounting or finance degree. Master's scholarships are for those attending an accredited accounting college or university program at the master's level and majoring in accounting or finance.
For more information and to apply, students should visit AFWA's Chapter Directory for the chapter's contact information. In cases where there is not a chapter directly in the applicant's area, the nearest chapter should be contacted. The scholarships are awarded annually in the month of May for the following school year.
AFWA member scholarship applicants must be a current member of the organization to be considered. Application information and forms are only provided from the secure Web site, which requires a sign-on to access. Scholarships are awarded in the fall and spring of each year.
In September 2011, AFWA also began offering a PhD scholarship to members majoring in accounting. It is awarded to doctoral students who demonstrate superlative achievement, leadership, communication skills, character, academic performance, and financial need. Funding is intended to cover research costs.
In addition to academic scholarships, the organization also offers certification scholarships for the certified public accountant, the certified financial planner, and the certified management accountant, for example.
More information can be found at the AFWA Web site at www.afwa.org
The American Association of University Women (AAUW)
The AAUW is a national group comprised of more than 100,000 members and donors, 1,000 branches, and 500 institutions of higher learning.
AAUW has long been known for advancing educational and professional opportunities for women in the United States. The organization serves as one of the largest sources of funding for women pursuing graduate studies in the world. They offer three fellowships and grants geared toward women students interested in a career in accounting:
American Fellowships were established in 1888 and comprise the largest of AAUW's scholarships. They support women completing doctoral dissertations, doing their postdoctoral research, or finishing research for publication purposes. Recipients must be U.S. citizens or permanent residents.
Career Development Grants support women who have already earned a bachelor's degree and who seek to advance or change careers or to re-enter the work force after some time away from their studies. Special consideration is given to women of color, those pursuing their first advanced (master's or higher) degree, or to students wishing to earn credentials in nontraditional fields. The grant will cover tuition, fees, books, supplies, local transportation, and dependent care. Recipients must be U.S. citizens or permanent residents.
International Fellowships are for women who are not US citizens or permanent residents. Applicants must be attending accredited institutions and pursuing graduate or postgraduate studies. Grants are awarded based on academic achievement and demonstrated commitment. By far and large, most recipients of these fellowships return to their home countries to become leaders in government, academia, business, and the arts.
AAUW scholarship grants total in the millions of dollars every year. Application information for each of these scholarships can be found at: www.aauw.org.
The Soroptimist Women's Opportunity Awards
The Women's Opportunity Awards scholarships are sponsored by Soroptimist, a major women's education project. In this program, various organizations assist women who serve as the main source of economic support for their families by helping to provide resources required to better their education and skills, which leads to more employment opportunities.
Each year, the grants total more than $1.5 million in cash awards. Many grantees of the awards have overcome many challenges in their lives, including drug abuse, domestic violence, and poverty and may use the funds to help defray any expenses linked to their efforts to attain a higher education. Examples include books, care for children, and transportation.
To be eligible, students must be women who have been admitted to an undergraduate degree program. Applicants must also demonstrate financial need. More information can be found at www.soroptimist.org.
Patsy Takemoto Mink Education Foundation
The Patsy Takemoto Mink Education Foundation offers scholarships for low-income women who are pursuing an education or training to make better lives for themselves and their children. Awards are granted for up to $2,000. These education support awards may be used to defray school or living expenses while the student is enrolled in an educational program.
Qualification criteria include the following:
Being a woman at least 17 years of age
Having a child/children under the age of 18
Being enrolled in a program earning a first bachelor's, master's or doctorate degree
Earning less than $17,500 for a family of two, $22,000 for a family of 3, or $26,000 for a family of four
For more information, visit their Web site at www.patsyminkfoundation.org.
The American Institute of CPAs (AICPA)
AICPA offers a fellowship for minority doctoral students for the purpose of helping to ensure a diversity of backgrounds represented in the certified public accountant profession. Their vision is to increase the number of minority CPAs who then will serve as mentors and role models to young people in the collegiate environment.
The fellowships are awarded in the amount of $12,000 annually for full-time accounting majors and are geared toward those who show promise of becoming accounting scholars and teachers.
About 20 applicants a year are granted a scholarship. Eligibility requirements include being a student of African-American, Hispanic, or Native American ethnicity, being a citizen of the United States, having earned or planning to earn the CPA license, and having been admitted to a doctoral program at an accredited US university.
Applications can be completed by downloading the PDF version of the form at www.aicpa.org. Applications must be postmarked by April 1 of each year.
AICPA also offers undergraduate and master's degree scholarships in the amount of $3,000 per year to outstanding minority students who wish to earn the CPA license. Applicants must be a full-time accounting student of African-American, Latino, Native American or Asian-American descent, and have completed 30 semester hours in university-level coursework, at least six of which are in accounting.
For detailed instructions and requirements, as well as an application, see the scholarship Web site at thiswaytocpa.com.
The Linda Lael Miller Scholarship
This scholarship is awarded each year to encourage women who want to improve their position in life through education. Applicants must be 25 years or older, and have had difficult times finding scholarships for which they qualify. As in previous years, the scholarship funds may be used not only for tuition and books, but also for childcare, transportation and other expenses not covered by other traditional scholarships. Ms. Miller's website has application information at www.lindalaelmiller.com.
General Considerations When Applying for Scholarships
There are many more general university scholarships offered to students interested in becoming an accountant. High school students should talk to their guidance counselors about scholarship opportunities. The best time to begin this process is during the junior year. Waiting until senior year is not a good idea, as many application deadlines come surprisingly early.
Most universities have entire offices dedicated to providing students with scholarship information and to assisting students with the application process.
Various scholarship sponsors may ask applicants to meet different requirements, may have different deadlines, and may ask for different extra materials to be submitted along with the application. However, in most cases, the application processes have more in common than differences. The best rule to keep in mind when applying is to be prepared early.
For the most part, applying for a scholarship is a lengthy process, requiring paperwork, personal essays, and letters of recommendation from previous teachers, peers, or employers. Waiting until only a few days or weeks until the application deadline is never a good idea, as it takes a lot of time to secure all of these required documents or to write a good essay.
It's very good practice to prepare a folder to keep all of the required materials in during the application process. That way, when something is needed, it's readily available and easy to find. Though many scholarships require an essay on a specific topic, it's advisable to at least write a basic one even before you know the topic. Applicants should begin by discussing general interests, accomplishments, and career goals. This will at least provide the basics and then more detailed information can be added later to suit the requirements of the institution offering the scholarship.
These steps will help ensure there is no delay in the scholarship application process.