There are many young women who excel in sports during their high school years. These sports skills can fetch women impressive athletic scholarships from a number of colleges. However, women usually must be recruited by a college to play a particular sport in order to receive a scholarship. Obtaining an athletic scholarship can be made much easier by contacting coaches and submitting recruitment forms to organizations such as the NCSA. Connecting with coaches and athletic programs will increase the chances of acquiring an athletic scholarship in any sport.
Many colleges and universities have a certain number of athletic scholarships that can be issued in each sport. Generally, Division I schools are able to offer more athletic scholarships than Division II schools. Women should search for schools that are willing to offer them athletic scholarships and attend the school that they think best suits their interests. Women should always put their academics first, because heavy involvement in athletics and difficult academics makes college applications much more impressive. Here are some of the best athletic scholarships available to women looking to play sports in college.
Volleyball
Volleyball scholarships are very popular among women. Volleyball scholarships are easiest to get for women who attend volleyball camps and discuss their interest in a volleyball program with coaches. Volleyball camps will allow coaches to see potential recruits in action, and students who demonstrate great skill both athletically and academically will likely receive athletic scholarships. Here are some of the top schools in the nation that offer volleyball scholarships.
UCLA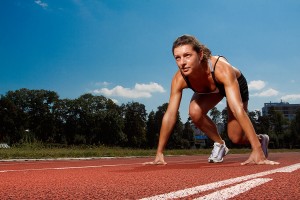 The UCLA Bruins captured a national championship in women's volleyball in 2011. The school is known for its stellar athletic programs and challenging academics. High school women who are interested in a volleyball scholarship from UCLA should provide statistics, video and scouting reports to prove their all-star abilities. UCLA only recruits the best of the best in women's volleyball, so women should also make sure that they do very well in the classroom to boost their chances of successful recruitment. Only the elite players on the volleyball team receive scholarships, but the scholarships generally cover the full cost of tuition.
There are several ways to boost the chances of being awarded a volleyball scholarship from UCLA. The school has certain criteria that should be met in order to be recruited. These criteria include:
Top athlete in home state or country
Filling out a recruitment bio no later than 11th grade
Joining NCAA clearinghouse no later than 11th grade
Interest in an athletic scholarship to UCLA should be shown early in high school. Scholarship opportunities are very limited, so the school prefers to know which students are most deserving of a scholarship as early as possible. More information about women's volleyball can be found on UCLA's athletic site.
University of Texas
The University of Texas provides generous scholarships to its top athletes. Texas placed fourth in the nation's rankings in 2011 for women's volleyball. Their women's volleyball team consistently ranks in the top five teams in the nation and goes to great lengths to find the most athletic young women for their program. The Division I school is generally able to offer up to twelve scholarships to their women's volleyball players. It is difficult to gain acceptance into the University of Texas, so attending volleyball camps and registering with the NCAA clearinghouse are extremely important in gaining acceptance and an athletic scholarship for women's volleyball.
Concordia-St. Paul
Concordia-St. Paul is a Division II school located in Minnesota. The team placed first in the Division II rankings in 2011 for women's volleyball and will be able to offer up to eight or nine scholarships to players. The scholarships may not be for full tuition, but they will create significant reductions in overall tuition cost to students. It is less difficult to gain acceptance into Division II schools than it is Division I schools, but the scholarships will likely not cover as much of the tuition cost. Out-of-state women attempting to receive volleyball scholarships will likely have to have their high school coaches submit statistics.
Concordia-St. Paul pledges good academics before athletics, so academics will likely be most important in their decision to accept students. Athletes who do not present great academics will be less likely to receive volleyball scholarships over athletes who do present outstanding academic achievements in combination with athletic accomplishments. Women may be awarded athletic scholarships in the form of additional academic grants or official athletic scholarships.
Soccer
Women's soccer has been growing in popularity in recent years. There are currently 320 women's soccer programs at Division I schools and 227 women's soccer programs at Division II schools. Numerous programs means women will have to look at lots of schools to find the right program. In addition, women who play soccer are likely to be offered athletic scholarships by multiple schools, so deciding between schools will likely be difficult. Here are some of the top women's soccer schools in the nation:
Stanford University
Stanford won their first national title in women's soccer in 2011. The school has become increasingly more notable for its athletic programs in recent years, and the school is also known for its outstanding academic programs. The first point of focus for women trying to gain acceptance into Stanford will be academics, because the school accepts less than 10 percent of applicants. Creating an appealing recruiting video will boost chances of being accepted into the school and increase the odds of receiving an athletic scholarship. Additional tips for receiving an athletic scholarship at Stanford include:
Emailing coaches about interest in program
Scoring exceptionally high on the SATs
Playing for travel and varsity teams in high school
Stanford provides helpful information such as schedules, news and rosters on their women's soccer site. Stanford has a busy women's soccer program, so registration with the NCAA clearinghouse will not be enough to receive a scholarship. High school women's soccer players should be patient with their clearinghouse registrations, as Stanford may take a year or longer to send back information about scholarships.
Duke University
Duke is located in Durham, North Carolina and is one of the most popular athletic schools in the nation. The Blue Devils are known for their top notch coaches and competitive spirit. The women's soccer team placed second in the national rankings in 2011. Duke can offer up to fourteen athletic scholarships to the women's soccer team, and each recipient must be among the elite players in the nation.
Numerous camps are offered by Duke in order to recruit new players. The school lists camp dates on dukesoccerschool.com, which provide ample opportunity to be noticed by coaches of the team. Scholarships often cover majority of tuition cost because of the school's Division I status.
In addition to school scholarships for women's soccer, there are private organizations that offer women athletic scholarships and grants. For example, the HWSA offers certain women $1,000 scholarships. Applicants must have a GPA higher than a 2.5 and be graduating high school in order to be eligible.
Grand Valley State
Grand Valley State University is a great Division II women's soccer school. Women who want to be recruited by Grand Valley State should fill out their recruitment form on the school's athletics website. Information that will need to be provided will include:
Academic records
SAT scores
Names of coaches
Grand Valley State is a highly ranked school with relatively low competition for soccer scholarships. Women can be noticed much more easily at Grand Valley State than at other schools with the simple recruitment form and additional information such as letters of recommendation. Scholarships will not always be full-ride, but partial scholarships are generally easier to obtain at Grand Valley State than at other schools.
Track
Women's track can be broken down into numerous categories. There are long distance runners, sprinters and hurdlers. Track generally does not provide full scholarships, but women may still be able to get good athletic grants in addition to their academic scholarships. There are, however, many private organizations that award students track and field scholarships. Here are some great organizations and programs to consider for women's track scholarships:
Scholar Athlete Milk Mustache of the Year (SAMMY) Awards
The SAMMY award is given to 25 high school seniors who demonstrate excellent athletic and academic abilities. Recipients of the award are give a $7,500 athletic scholarship for the school of their choice. The SAMMY awards are great for women track athletes who are seeking significant athletic scholarships for college. Applicants have to submit a short writing prompt to the organization to be considered for the award in addition to their academic and athletic records. Application is simple for the SAMMY awards, and women track athletes who place at the top of their state or country stand a great chance at being offered a SAMMY award.
World Sport Chicago Scholarship
Women who have run track for at least two seasons are eligible for the World Sport Chicago Scholarship. A scholarship may be worth up to $5,000 per year, and the award is renewable for the full four years of college. The award is available to high school juniors who live in the Chicago area, and potential student aspects that may be up for evaluation are:
Good sportsmanship
Community Service
Athletic ability
Fifty students are awarded the World Sport Chicago Scholarship, and there is a lot of competition amongst applicants. The World Sport Chicago Scholarship is one of the larger scholarships available to women who participate in track and field in high school.
Basketball
Women's basketball is one of the most popular women's sports in college. Women can receive great athletic scholarships for basketball from high ranking schools, but being noticed by these schools requires a lot of effort on the athlete's part. Here are some of the top women's basketball programs and scholarships:
Baylor
Baylor ranked first in the nation in women's basketball during the 2012 season, and the Division I school enjoys a reputation for one of the finest basketball programs in the nation. As with many high ranking schools, scholarships will likely require registration with the NCAA clearinghouse no later than junior year of high school. Receiving a basketball scholarship from Baylor will likely also require playing for both varsity teams and AAU teams. Baylor regularly advances far into the NCAA basketball tournament, so only the country's elite basketball players are likely to obtain a scholarship.
Campbellsville University, Kentucky
Campbellsville University offers it's top basketball athletes scholarships of up to $14,500 per year. Usually only one women's basketball player will be able to acquire this substantial scholarship, so competition is certainly high for the school. This athletic scholarship will cover most of the tuition and fees that Kentucky presents to its students, so receiving such a financial advantage is very helpful. Students must be able to maintain at least a 2.0 GPA to remain eligible for this athletic scholarship every year.
Robin Roberts/WBCA Broadcasting Scholarship Award
Women basketball players who are intending to enter graduate work in the field of journalism may be eligible for the WBCA Broadcasting Scholarship. The award amount for this scholarship is $4,000, and only one senior women's basketball player is presented with the scholarship each year. Information required to be eligible for the award include:
Letter of recommendation from coach
Game statistics for current academic year
Academic information such as GPA
Women basketball players do not have access to private organizational scholarships such as this very often, so an offer from this organization is an honor. Applications for the award can be made online and will be presented at a formal invitation-only lunch event. The WBCA offers additional scholarships to other female basketball players as well, but these scholarships are generally in amounts of $1,000 or less.
Swimming
Swimming is not a highly publicized sport among colleges, but women can still receive decent grants and scholarships from colleges and universities. Currently, there are 580 women's swimming programs at colleges. Full-ride scholarships from colleges for swimming are very rare, so women must compete mostly for partial scholarships and grant awards. Division I schools are allowed to give fourteen athletic scholarships to women's swimming, but swimming programs are often not as well funded as other athletic programs. Here are some great women's swimming programs and scholarships:
Davis Law Group Scholar Athlete Program
High school seniors in the Seattle area can be selected to win a $1,000 women's swimming scholarship through the Davis Law Group Scholar Athlete Program. A woman must have maintained a GPA of 3.0 or higher and must prove that she has been a major part of her swimming program. The program works by nominating a student each week and holding a formal selection banquet at the end of the school year. Each student who is nominated receives a $100 award, and the student who is considered the most deserving will receive the prized $1,000 scholarship. Applications can be accessed online and are able to be submitted starting at the beginning of the school year.
Zale Parry Scholarship
Women interested in pursuing careers in swimming/diving may be eligible for the Zale Parry Scholarship. The scholarship amount is $2,000, and selection is based on financial need and academic/athletic commitment. Women who apply for this scholarship must be licensed divers and must be attending an accredited college. Women will be evaluated on their academic achievements more so than their swimming achievements for the scholarship award.
Auburn University
Auburn is one of the top ranked swimming schools in the nation. The school has a well-funded swimming program and may be able to offer a few select students full-ride scholarships. Auburn plays host for national swimming championships on occasion, and the school has some of the top swimming facilities in the nation. Being recruited by Auburn requires a combination of exceptional athletic skill, impressive SAT scores and a great academic record. Women interested in joining Auburn's swimming team will need to contact coaches and join competitive swimming clubs in order to be awarded a scholarship by the school's program. Since swimming scholarships are difficult to find, women will need to be among the elite swimmers in their area in order to be considered for any type of scholarship.
Tennis
Tennis is rapidly increasing in popularity, so competition among students for scholarships is increasing as well. Tennis programs often place emphasis on hard work and academic success. Women who would like to be recruited by a tennis program at a highly ranked school will likely need to discuss their interest with college coaches and ask their high school coaches for letters of recommendation. Here are some of the top schools to consider for a tennis program or potential scholarship:
University of Florida
Florida placed second in the national rankings in 2011 for women's tennis. Florida is well known for their dominant athletic programs that consistently win national championships. While Florida is an excellent school for any prospective athlete, the school has a very competitive scholarship selection process that makes a full-ride scholarship difficult to acquire. However, since women's tennis is a head count sport, women are only given full-ride scholarships. Numerous students compete for athletic scholarships at Florida every year, so solid recruitment profiles must be forged in order to be noticed. Women who have great skill can have their coaches submit game videos and statistics to Florida in order to gain attention from the school. Some additional tips for being noticed by Florida include:
Participation in various popular tennis clubs
Demonstration of leadership among teammates
Letters of recommendation from multiple coaches and teachers
A tennis scholarship from the University of Florida will require hard work both on and off the court. Women should provide information that suggests that they can succeed while handling heavy workloads with their applications. Registration with the NCAA clearinghouse should also be done before junior year of high school in order to obtain a tennis scholarship from Florida.
Bev Granger Memorial Scholarship
Women tennis players may submit a 1,000 word essay describing their major and information regarding their academic and professional experience for the Bev Granger Memorial Scholarship. Applicants should also discuss how they plan to experience athletics in college. Award amounts may vary, so students will not consistently win the same scholarship amounts.
Columbus State
Columbus State University is a Division II school located in Georgia. The school places among the nation's elite Division II women's tennis schools, and athletic scholarships are not substantially competitive. While there are fewer scholarships that can be offered by Columbus State over Division I schools, women who are elite athletes in their areas should be able to be noticed by coaches without too much difficulty. Submitting film of matches and statistics should gain attention by Columbus State and if significant interest is shown in their tennis program, a scholarship may be offered. Women who are not offered scholarships by Division I schools should certainly consider sending information to Columbus State for a chance at a less competitive scholarship.
Golf
Golf scholarships are often offered primarily on the basis of interest and academic abilities rather than elite skill. Students need to prove that they are interested in playing golf in college and show that they have experience playing for their high school or private clubs. Golf scholarships may also place more emphasis on financial need over other women's sports. There may not be many golf scholarships available from schools to women, but competition for those scholarships is much lower than competition for other sports. Many private organizations and schools offer scholarships to avid women golfers.
WSCGA Foundation
The WSCGA Foundation offers numerous scholarships to women golfers. Scholarship opportunities available from the organization include:
Flo Scott Scholarship
The Anne Trabue Scholarship
The Mimi Deatherage Scholarship
Each scholarship offered by the WSCGA Foundation is generally geared towards a certain academic field. For example, the Mimi Deatherage Scholarship is available for women golfers who are interested in pursuing a career in law. Other scholarships are awarded to students interested in journalism, nursing and biology. Women will have to submit an application to the WSCGA Foundation in order to be given consideration for a particular scholarship.
North Central Pennsylvania Golf Association
The NCPGA gives two golfers awards of $2,400 each year. The students must have participated in the NCPGA junior program in order to be eligible. Participation in the program can allow women golfers to gain experience and skills in golf before college. The association also provides many golf clinics and allows members to participate in select tournaments. The $2,400 scholarships awarded by the NCPGA are awarded to the students with the best athletic and academic abilities.
Burkhart Center Scholarship
Burkhart Center scholarships are awarded more on the basis of academics than athletic abilities. However, women golfers can earn scholarships of up to $4,000 from the program. Scholarships are usually awarded to women golfers who have interest in pursuing careers in autism research and education. The Burkhart Center scholarship can allow women golfers to focus substantially on their academics over athletics. Applications can be submitted online and will be awarded to students who demonstrate financial need, academic and athletic achievement and interest in select careers.
Finding Other Athletic Scholarships
Female athletes should spend a lot of time finding schools that have competitive programs that are willing to accept them for their sports teams. Academics should never be overlooked while building a good record for colleges, so be sure to score well on SATs and take challenging classes in high school. If athletic achievement is combined with academic achievement, schools are much more likely to take notice and offer athletic scholarships. Women athletes should apply to both Division I and Division II schools to increase the chances of receiving athletic scholarship offers. In addition, searches should be performed to find private organizations that offer scholarships for select sports.
For students who cannot acquire athletic scholarships from Division I or Division II schools, Division III schools may be a good option. Division III schools cannot offer specific athletic scholarships, but they may be willing to provide exceptional athletes with additional academic grants on the basis of their athletic abilities. Division III schools also provide an opportunity for students to gain athletic experience at the collegiate level. Students may be able to play a sport for a Division III school and transfer to a more competitive school after gaining valuable experience.
Researching schools will be vital in obtaining an athletic scholarship. Each school usually has different preferences for students regarding athletic scholarships. Any woman looking to get an athletic scholarship needs to make sure that she is one of the best athletes in her school and/or home state. In addition, women can increase their chances of receiving athletic scholarships by regularly participating in community services to maintain a busy schedule. Part-time jobs can also demonstrate responsibility and hard-work to schools and may increase the chances of receiving an athletic scholarship. It is always the athlete's responsibility to promote herself and get her name known by competitive schools in order to gain an athletic scholarship.