I. Overview
Women who aspire to attend law school may find private scholarships, fellowships, and grants to subsidize the expense of law school. The typical law school tuition for two semesters is anywhere from $15,000 to $45,000 a year. The average law student graduates with over $200,000 in student loans to pay for this tuition, so it is essential for women in law to alleviate the cost as much as possible.
II. Types of Scholarships & Grants
Unlike scholarships and grants for college, law school scholarships are rarely advertised on the Internet. Because of this lack in advertisement or search engines catered to law school scholarships, women will have to do some digging on their own to find scholarships.
The best general way to go about the process of finding scholarships in law school is to identify major organizations and interest areas of the law that may offer scholarships. For example, the American Bar Association is known for promoting diversity and equality of women in the legal profession. As a result, this organization administers scholarship opportunities for women who are pursuing their law degrees.
Also, right now, many scholarships in law are being offered for scholarly work on the health-care mandate and its impact on women. Identifying areas of the law that are popular right now may yield a few scholarship opportunities for women.
1. ABA-Approved Grants
The American Bar Association Fund for Justice and Education seeks to promote diversity and end inequalities amongst social groups. The ABA Legal Opportunity Fund provides 20 students with $15,000 to meet financial burdens in law school. Over 70% of the recipients of this scholarship are women, according to the website.
To apply for this scholarship, one will have to be enrolled in law school. Participation in pro bono projects and volunteer activities must be demonstrated in order to receive this scholarship.
The ABA also awards individual grants to law schools for taking on summer positions with organizations like Legal Aid Service. You may be able to obtain a grant for $3,000 to $4,000 for taking on this type of position. The benefit of taking one of these grants is that the money is usually non-taxable.
To find a current list of the American Bar Association grants, you can visit www.pslawnet.org.
2. Law Review Writing Competitions
Law review writing competitions are one way to earn some cash for law school and gain credibility in the field of legal scholars. Having a law review article published can instantly bolster the chances of any law student gaining employment upon graduation. Employers look favorably upon law students who have been published in a scholarly publication.
Women who are currently criminal justice majors in college can also benefit from having a senior thesis published in a collegiate journal. While a law review is unlikely to publish an article from an undergraduate, there are other academic publications that exist solely for the publication of undergraduate scholarly work. For example, the UROP (Undergraduate Research Opportunity Program) hosts symposiums every year that allow undergrads from all around the country to display their research and receive grants for doing so.
3. Private Writing Competitions
Private writing competitions give law students a great opportunity to earn some money. For the most comprehensive list of private student writing competitions, be sure to visit this link from Lewis & Clark College. This website has taken the liberty of organizing the different private writing competitions into different areas of the law. If you have an interest in Probate law, for example, you can find a list of different competitions that focus on publication of articles relating to probate, trusts, and wills. Scroll through this website to make your own list of private writing competitions that you aspire to apply to.
When entering a private competition, the key to remember is submitting a piece that is grammatically perfect and flows well. The competition for winning a cash prize in a writing contest can be very tough. Try to write on a specific law that needs reformation. Audiences enjoy reading scholarly pieces that have a point and a strong argument. Because some students only spend their spare time applying to these writing competitions, you need to stand out from the crowd.
4. Law School Alumni Scholarships
Your law school likely hands out scholarships as well. This is one of the best resources you can consult for scholarships, because you have the most likelihood of obtaining one through a law school. If you attend a well-known law school such as University of Michigan Law School or Harvard Law School, then chances are your school has a strong alumni scholarship fund.
These scholarships are not always advertised online. So, if you are facing financial hardships, be sure to meet with the different officers in the financial aid department, the endowment and giving section, and the Dean's office. All of these individuals work with one another, so it is to your benefit to meet with them as early as possible.
When you meet with an officer in the financial aid department, be sure to fully explain your need for additional funds. You must show how much you need the extra scholarship money in order to be able to attend your law school. Otherwise, an individual in a position of authority will simply take the next person in line. Demonstrating your financial hardships allows a financial aid officer to understand the challenges you face every day.
5. Federal Financial Aid
Make sure you file the FAFSA every single year. The FAFSA stands for Free Application for Federal Student Aid. Grants that carry no obligation for repayment are typically not given to law students and other graduate school students. However, you can qualify for a work-study grant and the loans you need.
The government gives work-study grants in the amount of up to $2,500 for the year. Every law school offers positions designated as "work-study." These work-study positions are easy to obtain and involve very little work. The point of a work-study position is so that students can gain research, writing, and analytical experience on the job.
The loans you can receive through the FAFSA are the Direct Stafford and Graduate Plus. Students try to take as few loans as possible, because repaying these loans with their high interest rates can quickly become expensive. You can end up paying an extra $50,000 in interest fees throughout the life of these loans.
6. Individual Scholarships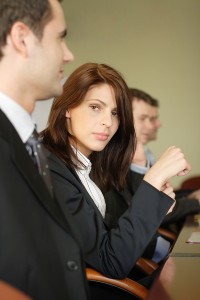 Individual scholarships are often difficult to find through search engines. Your best resource will be the librarians at your school, the financial aid director, and the website for your school. Your law school likely places a list of individual scholarship competitions on its website. Find this list and pick out the scholarships that interest you.
Recently, scholarships for minorities and women have become quite popular. Large law firms have begun reaching out to underrepresented groups in society and offering scholarships to assist with their legal education.
III. Prestigious Individual Scholarships
Some scholarships mean much more than winning a cash prize. Winning one of the following scholarships is a resume booster for any young women who is in law school or pursuing a criminal justice career. These scholarships may also offer women positions in the legal field for the summer.
1. The American Association of University Women's Selected Professions for Fellowships for African-American Women
This scholarship awards $5,000 to $12,000 to women who are pursuing graduate degrees in fields where they have been historically underrepresented. A woman must be pursuing a degree in the fields of business, law, or medicine to qualify for one of these competitive fellowships. To learn more about these scholarships, women should visit www.aauw.org.
2. Equal Justice America Fellowships
The Equal Justice America organization supports law students who work for the poor. This organization provides scholarships of up to $1,500 to law students who work for a non-profit public interest firm to benefit indigent and impoverished people.
To apply, law students must submit a cover letter detailing the position they will hold at a public interest firm for a semester. A position must also be secured prior to applying for a fellowship.
Students can read about the fellowship at www.equaljusticeamerica.org.
3. Women's Research and Education Institute Congressional Fellowship on Women and Public Policy
This is a women's policy fellowship that offers a monthly stipend of $1,450. The aim of this organization is to place over 300 fellows with congressional offices in Washington, D.C. These fellows work on issues such as healthcare and reproductive rights, foreign affairs in Africa, and military issues facing women.
The fellowship does not cover room, board, and travel expenses. However, the fellowship will cover up to $750 in tuition expenses for each fellow the following year. This is a very prestigious program, as many of the fellows have gone on to careers in politics. The website for this organization is www.wrei.org.
4. International Federation of University Women
This international organization provides scholarships for women from all around the world. A woman must be from South Africa, Norway, Japan, Israel, India, Great Britain, France, Australia, the United States, or Switzerland to qualify for one of these grants. A law student should apply in her second year of studies for a grant. Applicants are judged according to how their research plans will ultimately benefit girls and women in the world. The link for this organization is found at www.ifuw.org.
5. Fulbright Grants
Being a Fulbright scholar is a recognition that stays with a recipient throughout her lifetime. Winning one of these grants opens up doors in business, public interest law, and private practice for women. Receiving one of these grants is a highly competitive process.
The Fulbright program gives you money to research or teach in foreign countries. You have the ability to direct your own research and present it to a committee upon completion. These grants can be highly lucrative and give you academic freedom that you would experience nowhere else. You can earn approximately $2,000 a month by researching in a foreign country. You simply need to convince the committee that your research topic is worth the pursuit.
To search through the database of Fulbright grants available, go to catalog.cies.org. Hundreds of Fulbright grants go unclaimed every year, so you should submit multiple applications. The deadline typically falls in the middle of March.
IV. Internationally-Based Scholarships
Some law school grants are aimed at women from a particular geographic location in the world. For students pursuing a law degree abroad, these grants can provide tremendous financial relief.
1. Australian Federation of Women Scholarships & Fellowships
This fellowship program motivates and supports young women pursuing law degrees abroad. The organization provides one three-year fellowship that is entitled the Freda Bage Fellowship. Several one-year fellowships are also available.
Women do not have to have Australian citizenship to apply for this fellowship. They must have graduated from a college in the Australian territories, however. To apply for this competitive fellowship, applicants should submit a curriculum vitae, recommendation letters from professors, academic records, and a fellowship application form.
To see the deadlines for this fellowship, visit www.fellowshipsfund.com.au.
2. Becas Chile Grants
Chilean students can benefit from the Becas Chile Grants. The Chilean government is in charge of this program. This program supports over 30,000 students with financial assistance. To apply for a Becas Chile grant, submit an application at www.becaschile.cl.
3. Canadian Federation of University Women
The Canadian Federation of University Women offers highly competitive grants every year. These grants vary in amounts from $2,000 to $12,000. The listing of available fellowships is displayed at www.cfuw.org. Each fellowship has its own application requirements, so be sure to carefully read through the descriptions.
4. American-Scandinavian Foundation
The American-Scandinavian Foundation (ASF) offers over $500,000 to support its scholars in research and teaching of the law. To apply, women must be citizens of Iceland, Denmark, Norway, Sweden, or Finland. The awards are given out by the participating countries in this organization. Visit www.amscan.org to learn more about how you can apply for a grant.
IV. Stay Organized
By knowing about these scholarship opportunities, any woman can seek to fully fund her law school or criminal justice education with scholarships. It is not impossible to graduate debt-free from law school. Being proactive in the scholarship application process pays off. For law students, here are a few tips to remember in their quest to graduate debt-free.
1. Keep a File System
Keeping all of your law school scholarship applications is essential. Also, remember to be aware of deadlines for scholarships. Perhaps you want to submit a law review note to a writing competition. You may need to finish your law review note prior to its deadline for the law review organization, in order to meet the deadlines for other writing competitions.
2. Ask Professors Early On For Recommendation Letters
Unlike college, you will need to ask your law school professors months in advance for recommendation letters. You should create the list of the scholarships you intend on applying to so that you can ask for letters of recommendation as soon as possible.
Law school professors are busier than undergrad professors. They are typically focused on teaching large classes, completing their own research assignments, and being involved with symposiums in their spare time. If you spring a letter of recommendation on a law professor at the last minute, he or she will be unlikely to agree to writing it. Save yourself some heartache by asking for letters of recommendation at least three to four months ahead of a deadline.
3. Submit Undergrad Transcripts
Many scholarships will request that you submit your transcripts in an application. Do not forget to submit your undergraduate transcripts as well. Even if you had a low grade point average in college, it still pays to be honest about your academic situation. You may find a scholarship committee is willing to overlook a low undergraduate grade point average if your application is compelling.
4. Confirm Application Submission
After you have submitted a scholarship application or writing sample, confirm the submission of your materials. It is better for you to immediately confirm acceptance of these materials early on to avoid hiccups later on in the process. Some committees are forgiving of a mailing mishap, while other committees are not as forgiving and will immediately disqualify you from the competition for an incomplete application.
V. Conclusion
Remembering these tips will put you in the best position for financial success in law school. Unlike many of your colleagues, you may graduate debt-free if you follow the tips that have been outlined here. Just remember to convey your academic strengths and heartfelt passion for whatever organization you seek a scholarship from. Doing this will show a committee that you have what it takes to succeed in the academic, business, or political world. The more enthusiasm you show, the better your chances of receiving your dream fellowship.