Going to college for a four-year degree or beyond opens up the doors for many women to improve their life situations. For many women, going away to college presents the most beneficial opportunity. When going away to college, women get to experience life on their own in addition to receiving a beneficial education. However, the cost of college room and board is high. In some cases, it is insurmountable. Many women cannot afford to pay upwards of $20,000 per year to live on the campus of their choice.
Luckily, there are housing grants and scholarships available just for women. There are also a number of non-gender-specific grants and scholarships that women are eligible to win.
Federal Grants
Federal grants are available to all people based on income level, not just women. But women may be more likely to obtain federal grants, especially if they have children who are in college or for whom they are paying tuition at another school. Federal grants pay for all college expenses, including living expenses while a woman is in college.
Contributing to whether or not a person is eligible for federal grants is a person's income and whether or not other family members are in college. Income for those with dependents is at a lower threshold, and people who are paying college expenses for other students also get larger grant amounts. Women may be more likely to get federal grants because they may be more likely to have dependents.
State Grants and Scholarships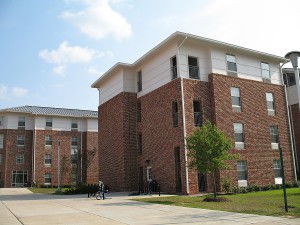 In addition to the federal Pell Grant, many states offer grant and scholarship programs. Though most of these grant and scholarship opportunities are open to men and women, they also tend to offer money for housing. For example, Arizona students have the chance to win a state grant that allows them to travel to a four-year school if they desire. Arizona students who have attended and done well at community college may be eligible for these scholarships, which allow them to obtain a bachelor's degree from a four-year university which likely requires not only travel and higher tuition, but also living expenses.
Private Scholarships and Grants
Strangely, many women stop looking for scholarships and grants for housing after they have found out what the federal and state governments have to offer. However, some of the best scholarships for women can actually be found at the organizational level. Non-profit organizations, faith groups, and even private companies offer grants and scholarships specifically for women. Many of these grants and scholarships are geared toward helping women improve their situation or making the playing field level for them in terms of education and future job opportunities.
The following is a list of some of the private organizations that women can call on to learn more about grants and scholarships that allow them to pay for housing.
Jeannette Rankin Women's Scholarship Fund
The Jeannette Rankin Women's Scholarship Fund was created to offer educational opportunities to low-income women. The scholarships can be used for tuition, or they may be used for housing costs — even if a student is living off campus. In fact, one of the primary reasons that the fund was established was so that women who were the heads of their households could go to school — women who live in houses or apartments and attend an accredited university, college, or vocational school.
Students who receive this scholarship can be pursuing a two-year associate's degree, first four-year bachelor's degree, and even a vocational credential. Students can use the funds they obtain for rent or mortgage payments, utilities, transportation, childcare, books, and tuition. The scholarship is aimed at helping women in the ways that are best for them, so that is why it is so flexible.
However, women must be from low-income backgrounds to obtain the scholarship. Income guidelines are posted on the organization's website. According to Jeanette Rankin Women's Scholarship, more than 97% of those who received scholarships in the past had either graduated or were still in school.
School Grants, Scholarships, and Assistanceships
Many schools offer scholarships, grants, and assistanceships to women only, and many of these awards can be used for housing. For example, women pursuing their bachelor's degrees are often available for scholarships and grants that universities' departments or contributors to the universities have set aside for women who are achieving in certain areas, classes, or subjects. Asstanceships generally require that women work for a department, but in return they are paid a wage which they can use on housing costs, in addition to money off of their tuition.
American Association of University Women Awards
Whether you're entering a bachelor's program or finishing your PhD, the American Association of University Women offers a number of scholarships, grants, fellowships, and awards for women who are trying to make a name for themselves in higher education. There are many awards, including those given by state and local associations, and each has its own requirements for what the money can be used for.
However, women may be able to use AAUW funds for housing expenses. It is important that women look through all the funds available, including fellowships, grants and scholarships, and women should not think that just because they are farther on in their education that they won't be able to get housing grants.
Many fellowships and assistanceships are given specifically to help women with daily expenses while they are pursuing their educations. Women should consider joining their local AAUW to learn more about the grants and scholarships that may be available on a national and local scale.
Professional Associations
Many organizations and industries offer professional associations for women, and those professional organizations tend to offer scholarships and grants that can be used to pay for housing. For example, the Society for Women Engineers offers a large amount of scholarships for women who are entering an engineering field. Even though the national organization offers these scholarships, the local organizations also offer smaller scholarships.
Women who plan to go into a number of professions, including mathematical and science professions, the ministry, education, and business, should check to see if the profession that they hope to join has a woman's organization. If so, they may find that they can obtain a grant or scholarship that will cover housing costs.
Individuals should be careful to review the information about each grant or scholarship, though, to ensure that it can be used for housing. Some professional organizations offer scholarships that cover both tuition and fees, and these organizations will allow you to use the funds to pay for housing as well, if you live on campus. However, some organizations do not let you use scholarships for housing even if you do live on campus.
Girl Scout Scholarships
Young women who have just graduated from the Girl Scouts are eligible for a number of scholarships from the organization, many of which can pay for housing and expenses in addition to tuition costs. The scholarships depend on where a Girl Scout has participated in her troop and where she plans to go to school.
However, the national Girl Scout organization offers a website that lists all of the scholarships that former and current Girl Scouts are eligible for. Individuals can search these scholarships by state. Some of these scholarships are minor — bringing in only $1,000. However, other scholarships offer several thousand dollars in scholarships.
Regardless of the amount that a girl scout is eligible for, every little bit benefits her. For this reason, women who have recently been a part of the Girl Scouts should not forget the opportunity to learn more about their scholarship programs.
Philanthropic Educational Organization
Women who recieve scholarships from the PEO may obtain up to $2,000 in support for themselves and their families while they go back to school. This money can be used to help women provide for their families in terms of housing. The organization also offers other scholarships, including $10,000 scholarships to those who want to study in the United States from abroad. Another program by the PEO supports women just graduating from high school to pay for a college education.
Sports Scholarships
At most universities, women's athletics are an important part of university life. Women who are involved in athletics may find themselves eligible for full-ride scholarships that cover both tuition and room and board costs. However, even those women who are not eligible for scholarships from the university they are attending may be eligible for sports scholarships from women's sporting associations, women's athletic shops, etc.
Women who play in local sporting events, like local women's volleyball, soccer, basketball, or other sports hosted by an athletic association may be eligible for a scholarship from that organization. In fact, a number of YWCA organizations offer women's scholarships that may pay for housing or room and board/living expenses.
Women Chefs and Restaurateurs Organization
Women who are interested in joining the culinary field may be eligible for a scholarship or internship from the Women Chefs and Restaurateurs Organization. This organization offers a myriad of scholarships to women who are seeking college degrees or training that will prepare them to work in the restaurant industry.
Women who are interested in these scholarships and internships can visit the organization's website. It features a number of scholarships and internships that have different application requirements and can be used for different costs. Some, especially internships, offer funding for housing and other related expenses. These scholarships, awards and internships offer an excellent opportunity, not just for women to get money for college but to work in the field of their choice and to receive an excellent honor from a reputable organization.
Beginning Your Search For Funds
From professional organizations and colleges to local organizations and chapters, there are many grants and scholarships that will pay for a college woman's housing and living expenses. However, women will only learn about these scholarships if they begin to do research. Although there are so many scholarships for women available, not all of these scholarships are available to all women. Similarly, not all of the scholarships can be used for housing and living expenses.
Women who are interested in supplementing their housing funds with grants and scholarships should start by making a list of the scholarships they find that are for specifically women or that women are eligible for. Then they should make a separate list of those scholarships that will pay for housing expenses. Women should begin to apply for these first, leaving the rest for their free time after they have completed all of the other applications. Women might want to set a goal of completing a certain number of applications per day. This way, they can stay on track, because the more applications submitted, the more women are likely to win an award.